OPRF Marching Huskies lead the way for eighth grade pups
Eighth graders previewed what it's like to perform with a high school marching band on Oct. 7 at the annual eighth grade night for the Oak Park and River Forest Marching Huskies.
The tradition has eighth graders from Julian, Brooks and Roosevelt middle schools attend a regular pregame marching band rehearsal and stay for a home football game.
This year's event took on extra importance because a record number of eighth graders attended, and the band recently won awards at three competitions: the A.A. Stagg Jamboree, the Downers Grove South Marching Mustang Music Bowl and the Illinois Marching Band Championships Large Schools, according to the website Illinois Marching Online.
During the halftime show, the eighth graders watched and cheered on the rest of the band. While the uniformed, seasoned high school band members poured out onto the far edge of the field, the eighth graders, waiting for their turn to perform, scrambled to the top rows of the bleachers to get the best vantage point of the show.
A group of five huddled together while they held onto their instruments. All from Roosevelt, they buzzed with excitement. One member of the group, Marchelle Murphy, spoke ecstatically about the experience, saying, "So far this entire thing was amazing. I love the football team, I love watching them play, and I love how the marching band does the halftime show and how they all formed together so well."
Magdalena Keberlein praised the dinner that the marching band parents served up between rehearsal and the football game, saying, "We got pizza and then they had like a bunch of brownies and cupcakes and stuff; it was good pizza!" Keberlein added that she always wanted to do marching band, having been inspired by performances from other marching bands that she'd seen in the past. "When we would be in school sometimes we'd watch the university marching bands' performances, and I always thought they were really cool," she said.
J.R. Welshons, a percussionist, said he loved being able to play the drums, the cymbal especially. "So far it's been an amazing experience," he said. When asked if he planned to join the marching band next year, he said, "definitely."
What about the marchers who don't play an instrument? An important part of the band–so important they get their own specific feedback from expert judges at competitions–is the color guard section. Visually, they do a lot for the performance, and are often seen waving large colorful flags or twirling and tossing pretend rifles. They wear costumes that stand out from the rest of the band. This year they are wearing red and black.
OPRF junior and member of the color guard Bailey Ivey spoke fondly of their eighth grade night experience, saying, "My eighth grade night I was paired with a senior named Karl. He was phenomenal. He was the sole reason I joined," they said. "It was also definitely the community. Before colorguard I hated any form of performing, public speaking, anything at all. Color guard has definitely gotten me out of my shell."
Marching band tends to run in families. For example, senior Will Norman was "indoctrinated" into color guard, as he put it, by his sister, who was a member of the clarinet section in her day. He attended his eighth grade night as a prospective color guard member, since he didn't play an instrument. "I thought I might like it a little bit, but I liked it a lot!"
Sophomore Rachel Kralik, who is new to marching band this year, also had familial influence on her decision to join. She said, "my parents were like, 'you should join color guard,' and then I went to their winter performance, and I thought that it was really cool."
Kralik unfortunately didn't experience an eighth grade night because hers was canceled due to COVID. As a result, she missed the sign up time during her freshman year, which is why she was new this year. She concluded that eighth grade night was a valuable event for the OPRF Marching Band, and that she was glad to have experienced her first one this year.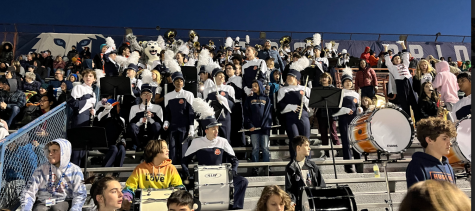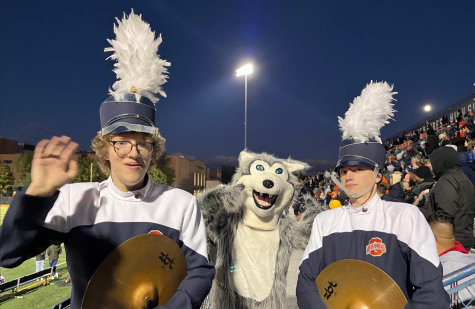 Leave a Comment