Boys' Hockey takes game one of Paul Hruby Cup
The Oak Park and River Forest Hockey Club beat Fenwick High School 3-2 in game 1 of the annual Paul Hruby Cup, a three-game series between the crosstown rivals. The win gives momentum to new head coach Mike Murphy, who hopes to build a new culture centered around team spirit and commitment.
Players spoke highly of Murphy's coaching style. "He has a really positive outlook on anything that happens, good or bad, and he's always bringing the energy towards our games," said senior captain Aaron Jenkyns.
"He's a good communicator," added senior Hank Mickus. 
Murphy credits his positive and team-centered atmosphere for the team's successes so far. "My whole framework for how I coach is kind of a psychological basis, and I want these guys to play for each other and really connect," said Murphy. 
Since taking over this year, Murphy's main task has been getting his players to buy into his philosophy and coaching style. "It's been a challenge trying to get these guys to trust when they've been burned three years in a row having coaches leave," said Murphy. 
OPRF's recent win over rival Fenwick was a sign that Murphy's approach might be working. The Paul Hruby Cup is a best of three game series between OPRF and Fenwick hockey teams. The two teams played their first game on Oct. 29 at Allstate Arena in Rosemont. 
After an intense 60 minutes, OPRF secured the win. During the game, Mickus didn't allow Fenwick to score a goal for two straight periods. "I don't know what I was thinking, but I knew it was awesome," he said. "It kind of just happened, but it was pretty sweet." 
 Despite winning the Hruby Cup series title last season, OPRF wasn't expected to beat Fenwick this season. "A lot of people counted us out this year," said Jenkyns, who was part of last year's Hruby Cup-winning team. "People doubted us because we lost some of our best players last year. I think the team has come together and pulled off an upset." 
OPRF plays its next Hruby Cup game against Fenwick on Sunday, Dec. 18 at The Edge Ice Arena in Bensenville. The second straight Paul Hruby Cup Series title hangs on the line for OPRF.  Murphy highlighted how important fan turnout is, especially in these highly competitive and anticipated games. "I'm all about hype," he said. "I love momentum built from group energy. I can't tell you how pivotal it is for me to see a fan group." 
"My mindset is just to do me: to lock in and get the job done," said Mickus. 
Murphy also wants to grow the success of the program by gaining players from elite clubs. OPRF's team is a club rather than a school-sanctioned sport. However, OPRF plays familiar schools, like Hinsdale Central High School and Glenbard West High School, through its participation in the Illinois West High School Hockey League. OPRF rejoined the West League to be more competitive after struggling in the Scholastic League filled with North Shore teams, like New Trier High School. 
Despite the low fan turnout at previous games,"I don't blame the Oak Park students. We have to be winning for them to want to come. We have to find the culture and play for each other before we start winning." said Murphy. 
Ultimately, Murphy believes the recipe to changing the culture of the OPRF hockey program is simple: "step one, we have to unite as a team; step two, we have to start winning; step three, we get the fans; and step four, we get all the talent at the school.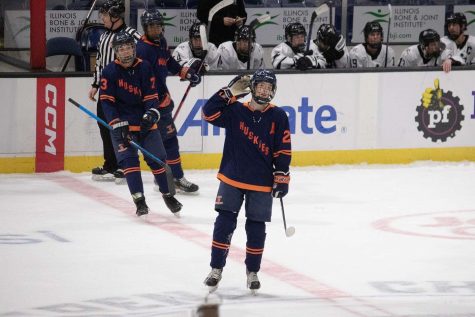 Leave a Comment