Athlete in focus: Liam Newhart
Liam Newhart ran his way into the record books this year.
The cross country phenom had his best season yet, winning several races and leading his team to a historic fifth place finish in the IHSA Class 3A state meet–the best team finish since 1980. Individually he placed second.
In his fourth and final season on the Oak Park and River Forest Boys Cross Country Team, Newhart had big goals. "I initially wanted to be top 10 in the state, and just two races in after a really good performance on the state course, I knew it was going to be better than that," said Newhart. His success comes after years of consistent training at a high level with his teammates, especially over the summer. "It was all about time and dedication. To have all of those miles behind me and much more time to get better, my growth was exponential," said Newhart. 
Coming into the season, Newhart had never won a race, but this year he won four out of the nine races. He had only lost to three Illinois athletes, but he came back and beat them in later races. 
Among these strong opponents was Aden Bandukwala, a junior from Hinsdale Central High School. Throughout the season, the two fought for first place several times: at sectionals, Newhart came out on top and at state, Bandukwala came back to beat Newhart by 0.3 seconds. "He edged me out by a quarter of a second, but I was happy with my effort. I stuck with him and unfortunately stumbled at the end," said Newhart. 
Newhart's breakout season comes just after missing the state meet for track in the 1-mile and the 2-mile in his junior year. Unfortunately, he got COVID right before the conference meet, and was never 100 percent before running at sectionals. 
"He was disappointed, but also reflective and understood his growth throughout the season and how far he's come as a freshman," said Baldwin. "He was motivated by that factor this summer." 
Newhart's disappointment fueled his drive for the upcoming cross country season. "It sucked for a few days, but I used it as fuel for the next season. I think it's really helped motivate me and has made me more hungry," said Newhart.
Newhart has been on the Boys' Cross Country team since he was a freshman. Throughout his high school career, Newhart's role on the team has grown. "What he's grown into, is everyday at practice he's not only there and present, but he's a leader showing some younger kids what to do," said Baldwin. "His commitment has raised tremendously." 
This year, Newhart's started the practice of "power-posing," a mental practice that increases the body's natural testosterone and mental confidence. "At one race I mentioned power-posing and did it, and my coach said that everyone behind me was doing it," said Newhart.  
The team's fifth-place finish was "because of what they did together. The comradery they had. They worked together and had commitment to each other, not just to running," Baldwin said. "I'm doing this for you, for you, for each other." 
Newhart is not done yet. In fact, he plans to run cross country and track at the collegiate level. He hasn't decided where he'll go, but definitely wants to take his running to the next level.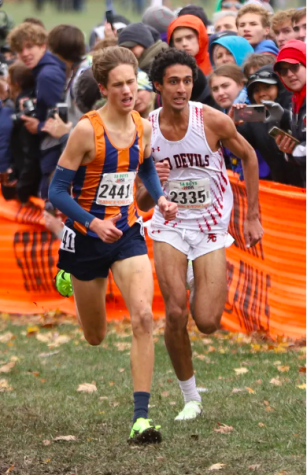 Leave a Comment