The new new math: OPRF shifts to integrated approach
After 12 years of planning, Oak Park and River Forest High School is beginning to phase in an integrated way of teaching math.
Currently, OPRF uses the standard American curriculum system: Algebra 1, Geometry and then Algebra 2. The new system would take students through Math 1, Math 2 and Math 3. Each level would incorporate a variety of topics such as algebra, geometry, trigonometry and statistics.
OPRF will begin rolling out the new math curriculum in the 2023-2024 school year for the freshman class only. Current OPRF students will not be affected by the change.
Most incoming freshmen will take Math I, which will have elements of Algebra and Geometry, while incoming freshmen who are already on an advanced track will go to Math I Accelerate and learn similar content on a higher level.
Additionally, a Math I Extended program will be available for students who want to learn at a slower pace.
The entire program will be rolled out by the 2026-2027 school year (see the chart to the right for a detailed timeline).
Julie Frey, head of the Mathematics Division, explained the inspiration for an Integrated Math curriculum. "In 2010, the National Council of Teachers of Mathematics strongly recommended that we move to an integrated model, which is what many schools use in Europe, Asia and Australia," said Frey.
"It makes math more meaningful for kids. They have greater retention when they learn it in a more integrated way because it connects the math to what they already know."
With an integrated system, Frey believes that students would be able to make more connections in math, which would help visual learners thrive.
Laurie Fiorenza, Ed.D, the assistant superintendent for student learning, articulated her opinion on the current curriculum, saying it is "not serving our students well." Fiorenza believes that integrated math "allows for repetition that we believe will improve students' mathematical abilities, in skill and in passion," she said.
A large focus of the Math Division was to increase students' love for math. The integrated approach allows for more connection to the real world, with the hope of giving students the tools to succeed in math beyond high school, teachers and administrators said.
"We want to ensure that all of our students have the type of math necessary to be college and career ready, and I think Integrated Math is going to ensure that more of our students are," said Fiorenza.
Tamara Gardner, a math teacher who contributed to the implementation of Integrated Math, pointed out an additional benefit. "With these three levels, everyone by their senior year would be able to take calculus," said Gardner, "Parents want their kids to be successful and most parents feel if they are able to take calculus their senior year, they have been successful. That is our end game. Everyone will have access to calculus."
This is going to definitely allow students that never saw calculus an opportunity to get there," added Fiorenza.
Many teachers feel as though the current system is inefficient, according to Gardner.
"With advanced algebra for example, the entire first semester is just a recap of Algebra 1. We're wasting a lot of time," she said.
Given the whole year of geometry in between two algebra classes, it takes a significant amount of time to regain all the lost knowledge from Algebra 1. With the integrated system, students learn the connections between geometry and algebra, making them one cohesive concept.
"Instead of having one year of geometry, we just take those geometric concepts and disperse them within Math 1," said Gardner. "We should have done this a long time ago. Geometry is nothing but algebra applied to a figure."
Revamping the math curriculum was a big undertaking, a dozen years in the making.
"The big worries (were) not having enough time to write a curriculum that we all really believe in, and having enough time to make sure teachers feel comfortable teaching the new curriculum," said Frey. "Every single textbook has to change. Teachers have to be retrained. It's a bit costly." OPRF chose to take its time in developing and proposing the best curriculum possible for students, rather than rushing through it, she said.
"Change is scary, so we hold on to things that are familiar. For many of us, Algebra, Geometry, Algebra 2 was our path," said Fiorenza.
According to Fiorenza, the OPRF community should expect to see "an increased enjoyment of math, a desire to move to the next level, and kids grasping concepts more quickly," as of the fall of 2023.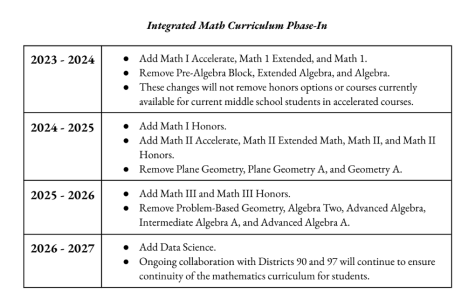 View Comments (1)