School security called to question after Nov. 1 fight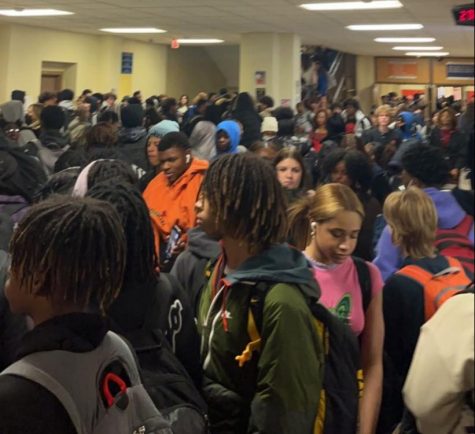 A fight that triggered a subsequent "secure and teach" at Oak Park River Forest High School on Nov. 1 left community members concerned about the safety of students.
In response to the fight, which involved 10 students, teachers and security personnel intervened. The "secure and teach" required all students and staff to stay in their classrooms for approximately one hour.
In an email sent to students and parents, Executive Director of Communications Karin Sullivan said that the "secure and teach" occurred in order "to clear the hallways and keep everyone away from the location of the incident."
OPRF's Community Council, a group made up of community members that advises the Board of Education, met in the Staff Cafeteria on the evening of Nov. 10. The primary discussion revolved around safety at OPRF.
Principal Lynda Parker and Dean of Students Carla Williams were there to listen and answer concerns of the council's members.
According to Parker, the number of fights from this year (at press time) is down 50 percent from last year. Nov. 1's fight "was the seventh fight that happened on campus this year…last school year, the same time we had 14," Parker said.
After she addressed the crowd of about 15 people, the talk immediately turned to OPRF's lack of a student resource officer, which is a member of the local police force that assists security concerns from within the school.
In 2020, OPRF voted to no longer have the SRO in the building. After pushback about this decision resurfaced at Thursday's meeting, board member Sara Dixon Spivy explained the reasons she voted against the SRO. Dixon Spivy said having an officer who the school paid a $180,000 salary and was not able to directly supervise "didn't benefit our kids. It didn't benefit our taxpayers."
Others disagreed and voiced opposition to the board's decision, such as parent and council member Sara Aldrich, who said she would "gladly pay (the SRO) $180,000 for (her) kid's safety."
Superintendent Greg Johnson said, to the school's knowledge, there was nothing leading up to the fight that made it preventable. Incidents such as the fight "happen because the truth is sometimes people, especially teenagers, have a really hard time controlling their emotions," Johnson said. "Our job is to respond to them."
Parker urged parents to not ask their students for details of events that happened at school for which they were not an eyewitness to, this can lead to the wildfire of rumors, but instead to check in on their emotional well-being by asking questions along the lines of: "Are you okay?" or "Were you harmed?"
"These are questions that help students assess their actual state of being given the moment," said Parker.
Community member Matthew Good said in regards to the decrease in fights, "Every single year we're trying to get better."
Leave a Comment