Empty Bowls celebrates 20th anniversary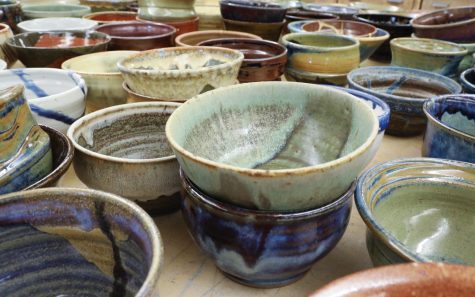 Three years ago, my freshman eyes took in the hundreds of earthen bowls that speckled the lobby. Oak Park and River Forest High School was holding the 17th annual Empty Bowls charity event, organized and hosted by the OPRF Wheelthrowing Club—the club I've been co-president of since the beginning of last school year.
Now celebrating its 20th year at OPRF, Empty Bowls is back in full-swing. It is an annual charity event where the Wheelthrowing Club and the surrounding ceramics community make hundreds of bowls to be purchased for $15 by students and $20 by community members. Proceeds go to Housing Forward, Global Alliance for Africa and Beyond Hunger, all of which are organizations fighting against hunger. After attendees buy a bowl, they can get bread and soup donated by local restaurants and businesses.
Empty Bowls started in the early 90s by John Hartom, an art teacher at Lahser High School in Michigan, and it has grown into a national event. Pennie Ebsen, a former visual arts teacher at OPRF, brought Empty Bowls to the community in the early 2000s when she saw lines at local food pantries grow and grow, according to Bridget Doherty, a current visual arts teacher and Wheelthrowing Club sponsor.
It was an amazing experience to be a part of as a senior, since as a freshman I had just started ceramics, and as a sophomore and junior core parts of Empty Bowls were cut and readjusted due to the pandemic. I've experienced two completely different iterations of Empty Bowls since then, and I was really excited to see it back in full swing in time for the 20th anniversary this year.
Senior Adrian Ostrow, one of the several club leaders, joined Wheelthrowing Club last year. "I enjoy making the bowls the most, but I also enjoy seeing people excited about the bowls," he said. "You know, we put so much effort into making so many, and even the ones I don't like someone will love, which I think is cool."
We've always got it in mind during the year, but behind the scenes, Doherty, Ostrow, the other co-presidents (sophomore Milo Hansen and junior Anna Miller) and I started planning for Empty Bowls 2023 in early October of 2022.
Throughout the five-month process, we make bowls on our own time, during club meetings on Tuesdays at 3:15 p.m., and during events the club hosts called bowl-a-thons where those invited make bowls for an extended amount of time.
Up until the week prior to Empty Bowls, we make, trim, glaze and fire bowls. We had about 850 bowls this year. In years past, over a thousand have been made. "Glazing bowls is the most stressful part for me. There's so many, and a lot of times bowls will get stuck in the process," Ostrow said. "It's easy for people to make a bunch of bowls on the wheel, but they don't always follow through with trimming and glazing, especially when other work for the event is being done simultaneously."
In late November, we start to reach out to local businesses and restaurants, calling and emailing them to see if they're willing to donate soup or bread. Doherty also keeps track of organizing security, reserving needed space, and gathering materials (tables, carts, tablecloths, etc.) for the event.
In the days leading up to Empty Bowls, we began to organize volunteers, double-check with donating restaurants, and finish collecting bowls. The club also tends to have little spirit wear days with new themes each day before the event, like carrying around spoons, covering ourselves in clay, and wearing the t-shirt designs for that year.
Day-of, volunteers pick up soup and bread donations while other volunteers carry the accrued bowls down from the attic to be sanded, washed, and brought downstairs. Up until 8 p.m. when the event ends, volunteers are replacing bowls on tables, ladling soup, tending to the t-shirt table and silent auction, and washing used bowls. Afterward, everything is packed up, and another year of Empty Bowls is complete. Last year, we made over $10,000.
When it comes to the night of the event, Doherty said it was very strategically and meticulously planned out. For example, Doherty noted how the lines take a while, and people want them to move faster. But, there is a reason for this format: "Ever since the inception of Empty Bowls with Ms. Ebsen, the line has been significant for the idea that it mimics a food line and that food lines are constantly growing and the need for food is constantly growing," said Doherty.
Ostrow and Doherty asserted the sense of community that develops from Empty Bowls, and I echo this sentiment. In every aspect, connections are made between individuals and create an overlapping community feeling. As an attendee and an organizer, it's a way to give back to the community and address an issue we are all responsible for solving.
Leave a Comment