Kinnan to leave her Huskie pups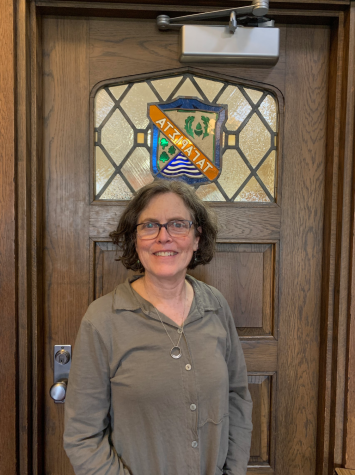 After 18 years as an Oak Park and River Forest High School English teacher and countless Huskie puns, Glynis Kinnan is retiring.
Kinnan, a champion of Huskie pride and spirit, is a Huskie herself. She grew up in River Forest and graduated from OPRF in 1977.
"She has a fierce loyalty to the school and determination to protect the intellectual rigor that our school offers," said Dove Hunter, OPRF English teacher and friend to Kinnan.
After high school, Kinnan went on to major in English at Grinnell College before earning her PhD in English with a specialization in creative writing at the University of Illinois Chicago. 
Kinnan began teaching to help pay for school. "I had no idea, really, that I would have any interest in teaching," she said. But throughout her time as an educator, she found a love for the profession. Teaching "has been fairly natural for me to do," said Kinnan.
Perhaps her teaching career was written in the stars. Kinnan recalled a "quirky" teacher during her high school years that she knew "read astrological charts, and I asked him if he would do mine and he did." When she asked him what job she would have in the future, he said she "would become a teacher or a writer. So that was kind of special that it worked that way."
Though she attended OPRF, her high school experience was very different from a high schooler in 2023. "I think there was a greater kind of distance between teachers and students than I think is so now," she said. Now, school has a "warmer environment," and "the teachers do really care about students."
Sophomore Callie Walsh said, "Dr. Kinnan is always very fun and always enthusiastic about English." She said that Kinnan's fun jokes adds to the class atmosphere. "I love the energy she creates: the way she gets everyone in the classroom talking, and the way we all interact with each other."
"School should be fun!" said Kinnan. "If we're not feeling the joy, we're not doing it right."
For Kinnan, much of the joy comes from literature itself. "One of the things I love about teaching at this school is I've been able to choose the books I want to teach," she said. "I'm a firm believer that if a teacher loves a book, that really helps students to get into it."
Walsh "really enjoyed" Kinnan's personal favorite, "Jane Eyre," calling it a "really interesting and dramatic story." No doubt Kinnan's passion for Charlotte's Bronte's classic novel has encouraged other students to appreciate the book.
One of the most "devastating" parts of her retirement is reading her "beloved Jane Eyre" for perhaps the last time ever. "I've read it every year for the past 18 years, and that's a great, great pleasure in life," she said.
The love of books isn't the only thing Kinnan instills in her students. "She is a tireless advocate for the value of literature and its connection to the development of the imagination and empathy," said Hunter.
Kinnan encourages her students towards a love for the humanities. "I worry a lot about young people being siphoned off into STEM fields and away from the humanities," she said. She believes it will be "creative thinking that saves us."
Kinnan's empathy and kindness extends further than her students. A proud vegan, she shares her enthusiasm for the cause to any willing listener.
"I became a vegetarian when I was 8," she said. She was impacted after reading the 1952 novel "The Borrowers" and first learned of the idea. "I became vegan in my adulthood at some point," Kinnan said. After a lifetime of cooking vegan meals, "I fancy myself quite a good cook," she said. "Pasta Kinnan" is one of her favorite things to make. It is whole wheat pasta, vegetables and tofu seasoned with garlic, soy sauce and balsamic vinegar.
Kinnan's two rescue dogs are also vegan, she said. "I'm very committed to animal rights, so I don't believe in buying dogs from breeders when there are so many that don't have homes, so many that are killed because there is no place for them," she added. "I mean, it's an absolute outrage that a society like ours permits that to go on."
Her passion for animals even invokes criticism of OPRF's animal practices. "Regret, as I leave here, is that I have not done more to try and improve the situation of animals here, you know. With things that are terrible: use of glue traps. Unbelievable cruelty involved in that and no excuse for that whatsoever. Things that go on in the name of science here I object to very much."
Despite the occasional criticism, Kinnan is generally oozing with Huskie pride and is the first to make a friendly jab at rival Oak Park school, Fenwick High School. "We're nicer than them," she quipped.
Kinnan has made her mark on OPRF students, whether they have seen her walking the halls, been lucky enough to have a class with her in the "Hemingway Room," or heard stories of her infamous "vocab games."
"Teaching is an exceedingly consuming job," Kinnan said. In retirement she hopes to spend more time with her family, volunteer and lead meditation classes at a local Buddhist center.
"Her absence will be deeply felt at school," said Hunter.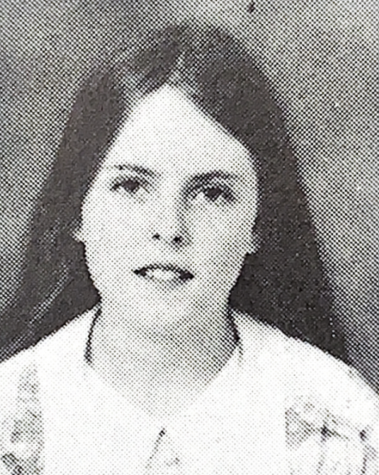 View Comments(1)