How very! "Heathers: The Musical" prepares for opening
A tale of mayhem, murder and machination is coming to Oak Park in a student-directed production this May.
Ovation Academy will put on a performance of "Heathers: The Musical" at the Madison Street Theater on May 12 at 7:30 p.m., May 13 at 3 p.m. and 7:30 p.m., and May 14 at 3 p.m.
"Heathers" is a darkly comic musical about "crazy, psycho, high school kids," said senior and lead actor Ben Bonick, who plays the role of J.D.
The musical, which debuted on Broadway in 2014, was inspired by the 1989 movie of the same name starring Winona Ryder and Christian Slater. It explores the desperate measures teenagers will take to move up in the social hierarchy of their high school.
Ovation Academy is a youth theater group not affiliated with Oak Park and River Forest High School. However, the 27-person cast is made up primarily of OPRF students, according to senior Ellie Medina, who is co-directing the show with senior Tori Hutson. "The majority of the cast is juniors and seniors, but we do also have a seventh grader and an eighth grader as well as a couple of freshmen," said Medina.
Ovation is producing the show through its Encore program for teens. Last year, "(Ovation) did its first student-directed Encore show, which was 'Spring Awakening,' which also has a lot of themes of teens coming into their own," said Hutson. "We wanted to carry that spirit out."
Hutson continued, "We wanted to do a show that the people who were a part of it felt like they could relate in one way or another." "Heathers" is set in high school and exaggerates some of the very real emotions high school students experience.
Medina also explained that, "We got the idea of 'Heathers' from some cast members who were like, what about this show?"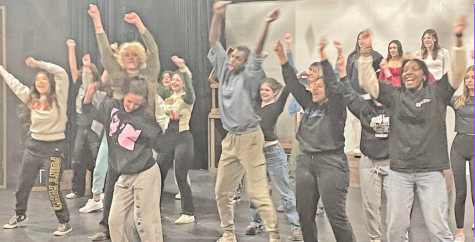 Ultimately Hutson and Medina decided that "Heathers" would be a good production to put on because "there's a lot of ways to incorporate everybody on stage, so that was definitely big," said Medina.
Music Director Trevor Schonman, a junior, began his interest in playing and studying music as a young child. Growing up in a musical family, "I started taking piano lessons when I was in kindergarten, drum lessons when I was in fourth grade, voice lessons when I was in seventh," he said.
As Schonman got older he became more interested in theater, getting involved at OPRF shows the past two years and becoming familiar with Ovation last summer.
For "Heathers," Schonman was excited to participate because "this show is a cultural icon."
Throughout rehearsals Schonman spends his time as music director, "making sure that everyone knows what you're supposed to do when it comes to singing. That involves teaching everyone all the music, all the harmonies, and then pulling out certain parts for solos." What makes music direction so important to Schonman is that there is a team effort in building character and executing smooth-running performances.
Since Schonman is a junior, and the cast consists of students ranging from seventh grade to their senior year, Schonman has learned to adapt to what being a leader means in his position.
"Directing your peers is something that everyone's going to have to do at some point, but it never gets easy," he said. "But I think over time people have started to look up to me in a musical sense."
Auditions were held as video submissions. Cast members sent in a video of them performing and if they were given a "call back" they sent in a new acting video before the official cast was assembled.
Junior Ariana Ramos, cast as Martha Dunnstock, wanted to audition for "Heathers" because "it's literally one of my favorite musicals," she said.
Rehearsals vary day to day according to Hutson and Medina. Some days there is a heavier focus in music rehearsals with Schonman while other days the co-directors work on choreography, scene work or running numbers.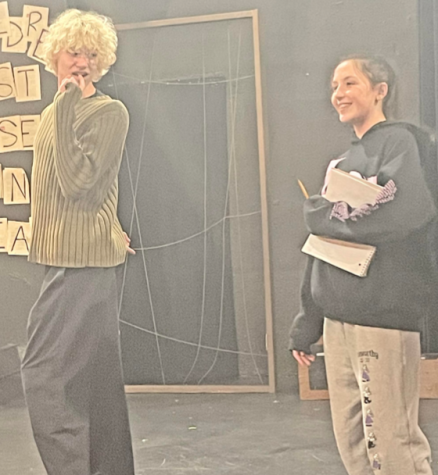 Although rehearsals began just mid-March, Hutson said the group developed a rapport quickly. "We've seen the community and the cast develop when they do scenes together," she said. "You can really see the relationships behind the scenes too, which adds a dynamic of chemistry that really enriches the show."
Senior and lead actress Ava Dalton, who plays the lead role of Veronica Sawyer, said, "I've always loved this show. It's been one that I've listened to for years."
OPRF Junior Lyra Artvetis loves musical theater and her role as Ms. Fleming in "Heathers." "I have learned so much about working with others and really building a community," she said.
In reference to the cast Arvetis said, "They are all just so special to me, and the type of environment we've created where we can all grow and do something we are passionate about is just incredible."
Bonick said, "I love the student directed shows, it's just nice and different!"
Senior Jessica Wolthusen, who plays the role of Heather McNamara, said she has had fun being part of the cast. She encouraged everyone to come see it "because it's fun, and I think it gives off a lot of perspective into the lives of teens, and I think that's really cool."
Leave a Comment