Students create colorful portraits of female heroes
Lavie Raven and his race equity class hope to highlight influential women of color with vibrant painted portraits and poems that will be displayed for students in the main foyer by next year. Civil rights advocate Kimberlé Crenshaw, poet Maya Angelou and activist Malala Yousefzai are among the women featured.
Junior Octavia Ikard, a student in the class, chose Crenshaw because of her work as a civil rights activist and her writing on intersectionality. Ikard hopes that these paintings will "bring attention to the contributions of women."
Senior Fiona O'Connor was also a part of the creation of Crenshaw's portrait. O'Connor expressed how she enjoyed learning about Crenshaw's work. "Learning about intersectionality is so important, and it's cool to have access to this class," said O'Connor.
Raven started doing portrait work before he came to Oak Park and River Forest High School. In his five years working here, Raven has led a variety of portrait projects. "In my classes every unit has a writing and research component, but the output is always going to be some kind of written prose or reflection, poetic output and creative visual art," Raven said.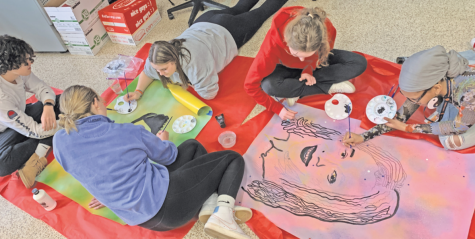 Raven has been teaching the race equity class for four years. Students learn how to teach and put together a curriculum. They then go to different classes and conduct lessons. "The curriculum was based on the skeletal framework that students had come up with four or five years ago," Raven said. During the many protests in the 2019 school year students created a petition for many things including the creation of the race equity class.
When students were petitioning for the class to be made, "Their idea was that if everybody has (access to) poetry and spoken word they should also have a conceptual framework of racial equity, especially in our school where there are issues that still arise," Raven said.
Part of the project also included reaching out to artist Bisa Butler. You may have noticed the colorful posters on the third floor. The posters are prints of Butler's vibrant and intricate portraits.
Originally from New Jersey, Butler graduated cum laude from Howard University with a Bachelors in Fine Arts, going on to get her master's degree in art from Montclair State University. She then went on to be a high school art teacher for 10 years. She has since had her art featured at The Smithsonian National Museum of African American History and Culture, The Art Institute of Chicago, The Los Angeles County Museum of Art and The Museum of Fine Arts Boston. Butler's work provides an example of how art can be used to honor our heroes. The colorful backgrounds will have poetry surrounding the subject.
Raven hopes that when students see these portraits, "Their spirits are livened, their curiosity is piqued and hopefully that little imprint on your brain will walk with you."
In previous years portraits were taken to The National Day of Racial Healing at Union Hall, others were featured at the Hyde Park Art Center and Depaul Art Museum. "This isn't something that will just stay in house," Raven said. "It's something that we want to reach out and affect other people."
Leave a Comment