OPRF celebrates life of beloved campus safety officer
The Oak Park and River Forest High School community plans to gather at 2:30 p.m. on Wednesday, May 31 in the stadium to celebrate the life of Jean "Tank" Corner, a longtime security guard and coach. Corner died April 30 from complications from pneumonia following a recent back surgery. He was 52.
A cloud seemed to pass over the school on May 1 when students and staff learned of his death. "I noticed a climate shift in the building," said Principal Lynda Parker. "I noticed that kids understood the magnitude of it, and the adults did too. The word I would use is shock."
In the days after his death, grief counselors were available to both students and staff to help ease the pain that was felt around the school.
Parker, who first met Corner when she came to work at OPRF as an assistant principal, recalled his high expectations for the administration and his impact on the school community.
"Because of his position at the school, he had the opportunity to interact with everyone," she said.
Cherylynn Jones-McLeod, the director of campus security, saw Corner as not just an employee but as a friend. "He used humor and honesty to connect with students and staff alike," she said. "He took complete ownership of his post on the third floor, which he jokingly referred to as 'D-Block.'"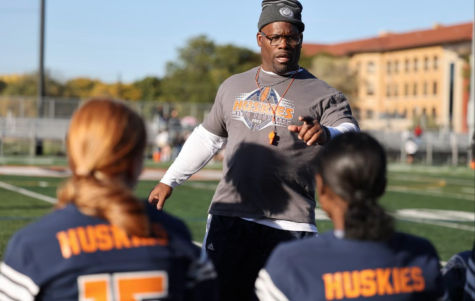 Corner attended Proviso East High School before transferring to OPRF for his senior year. He graduated from OPRF in 1989 and went on to get an associate of arts degree from North Iowa Community College. After receiving an athletic scholarship for football, he continued his studies at the University of Northern Iowa, earning a bachelor of arts. After college, in 1996, Tank became an active member of Omega Psi Phi fraternity Inc., MuXi Chapter, where he formed a brotherhood and lifelong friendships.
After college, he played arena football in Tokyo. Soon after his return to the states, he took a job at OPRF, where he worked in security for 28 years.
Corner was the head coach of the girls powderpuff football team for six years.
He later became head coach of the girls' flag football team, which launched in the fall of 2022. While doing all this he also created his athletic wear brand Fitness II Perfection, LLC, which featured sportswear with motivational slogans like "Work hard…no excuses."
While most community members may know Corner's iconic nickname "Tank," some may not know the history. According to Corner's friend and fraternity brother Lloyd Stalling, Corner got the name from playing running back as a kid at Memorial Park in Bellwood. "Running over people like bowling pins, like a little tank," Stalling said at the memorial service.
OPRF is home to many close friends of Corner, even some who have known him since childhood. Alisa Walton-Scott, dean of students, was a member of the track and field team with Corner at Garfield Elementary School in Maywood. "That's when I first encountered him. In fifth grade, he could run like the wind," said Walton-Scott.
Walton-Scott and Corner shared a
close relationship. "We really had like a brother-sister relationship. I don't have any biological brothers or sisters…but if I had the opportunity to select someone to be my little brother it would be Jean Lamond 'Tank' Corner. In all aspects," she said.
Corner had a similar impact on longtime friend and fraternity brother Thomas Guynes, who shared remarks and memories of his good friend at the memorial service. "As an only child Tank became a big brother, even though he still had to look up to me," Guynes said, laughing.
On May 8, dozens of students and a few staff members gathered outside of OPRF to commemorate Corner. Many of the students were part of the flag football team, and they came in their uniforms.
The group gathered around candles arranged to spell Tank along with a heart. They shared memories of Corner as a coach, a role model and a friend, which were met with laughs and tears. A minute of silence was held in honor of Corner, ending with the students releasing balloons and watching them drift away.
Football was a big part of Corner's life from beginning to end. Valda Yarrington, who works in security, said, "Tank loved football. He would give advice to the guys on football. He helped mold a lot of young athletes. When OPRFHS name would come up they would say, do you know Tank? A legend."
As the head coach of the flag football team Corner used his knowledge of the game and strong work ethic to motivate the players toward success. Patrick Poe, director of campus safety at OPRF, said, "To all the flag football girls, safety at OPRF, said, "To all the flag football girls, Tank loved you. It grieved him when you all got in trouble in school. He loved this school, he loved you guys."
Senior Gia Waisvisz became involved in flag football her junior year but was unfortunately injured. "When I found out my knee was injured I worked extra hard to make sure I was back for coach by the time the (senior year) season came around," said Waisvisz.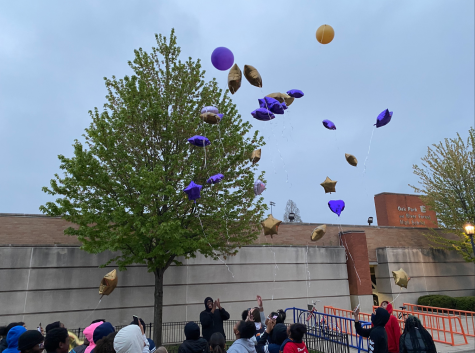 It's evident that Corner was a part of these girls' lives on and off the field, and his motto of "Work hard…no excuses" is still pushing them. "He'd make sure we were always good and our grades were on point," said Waisvisz. "He kept us on track."
According to Walton-Scott, aside from the birth of Corner's son, Zayden Corner, the start of girls flag football was his proudest achievement. "His biggest thing was getting this football team off the ground," she said. "Oh yes. He was so excited. Everything was, 'Sis, I got this for the football team'. When they got the helmets, when they got the outfits, when they got the cleats, everything." Even while he was recuperating from back surgery, Tank was working on plays for the team for this upcoming school year, Walton-Scott said.
There is no doubt that Corner will be deeply missed, but his legacy will live on in the school, from the joy and support he brought to the community and the work he did uplifting his team. As Walton-Scott said, "I know that my tears of mourning will turn to tears of memories, happy memories, and that I consider myself truly blessed to have had a friend, brother, that I've had in Tank."
Additional reporting by Sadie Collins, managing editor
Leave a Comment