"X-men" has OPRF premiere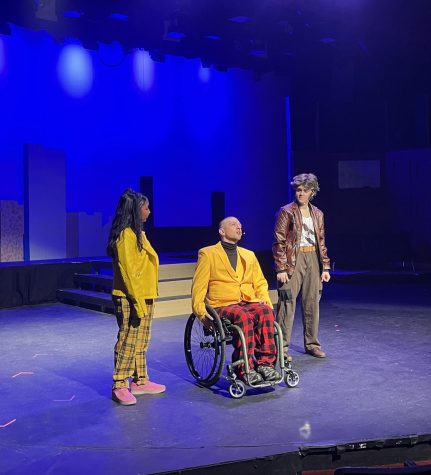 The X-Men have inspired fans around the world, with the franchise worth more than $6 billion. Riley Thomas, a 2002 graduate of Oak Park and River Forest High School, took his inspiration to the next level by writing a musical about the superhero team. With special educational permission from Disney and Marvel, his show "X Men: Mad Avenue" held its world premiere in the OPRF Little Theater May 5 through 13.
Thomas' script follows the X-Men, who currently live in New York where they are oppressed due to their mutant powers. They turn to a famous mutant pop star, Dazzler, to rebuild their reputation with the public.
Despite their efforts to rebuild, supervillain Magneto and his followers work to start a war between mutants and homo sapiens.
The war results in swapped secrets and sides switched while the X-Men do their best to remain strong, as the future of their city is in their hands.
The two-hour and 45-minute play (with a 15-minute intermission), directed by the head of the theater department Michelle Bayer, features superheroes, supervillains and the ensemble. Every ensemble character plays another role and everyone is given numerous lines with adequate stage time in order to support a balanced production.
"It's an ensemble show," said Bayer, "Even though there are leads and some supporting characters, every single person has a somewhat equal role in the production."
While preparing for the show, Thomas was at OPRF nearly four times a week, flying back and forth from New York to be there for rehearsals. While Thomas "had some specific control-freak moments that (he) insisted on…The general flow and execution is all Ms. Bayer," he said.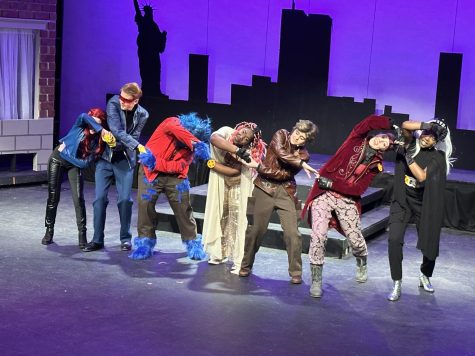 However, Bayer sees herself as a skeleton director where the actors are able to fill in the meat. Bayer acknowledged that everyone is different, so while some actors need more guidance and support, others are able to take Bayer's notes and make the role their own. 
Since "X-Men" is a smaller show filled with underclassmen and a few juniors, the majority of the actors have never had lead roles, which allowed them to develop new acting and singing experiences throughout the course of the production.
Sophomore Nafia Johnson, who played Storm, said, "Playing her really helped me grow as an actress. It was very fun to originate a character and come into Storm's essence."
The "X-Men" show was cast without regard to race, age or gender, allowing the actors to use their cultures to influence their characters through different accents, dialects and languages to produce a more diverse musical.
Johnson was able to use her personal identity to highlight her stage presence saying, "Given that Storm is the only Black X-Man, I was able to use elements of West African royalty to influence her powers to make sure that she was a strong black superhero."
Science teacher Peter Vishneski played a lead role in "X-Men," portraying Professor X, as he was approached by both Thomas and Bayer to get involved in the musical. This represented a return to the OPRF stage for Vishneski, who was a performer in high school. His dynamic performance got some of the loudest applause of the evening.
However, his strong vocal performance wasn't the only thing that stood out, as Visneski has an age difference from the rest of the cast.
He found that "it actually makes sense for Professor X. He also has that age gap between the rest of the X-Men."
The "X-Men" show was held in the Little Theater with the stage set in Manhattan filled with shadows of the Statue of Liberty and various other buildings. The set features two brick buildings on one side, and when flipped, shows the X-Men's school and their training facility.
Lining the theater were two projectors that indicated the setting, such as a concert or a warehouse. The set also presented various lighting cues, smoke machines and powers that featured stunts belonging to the superheroes and villains in the musical. All of these were made possible by the hardworking choreographers and designers that work alongside the cast and crew.
However, the production didn't need to rely on special effects as the actors' talents shone through. Thomas said, "Everyone was playful but focused, optimistic and onboard to tackle such a beast of a show."
On both weekends of the musical, Disney and Marvel's representatives came to see the show to decide if they will continue the production of "X-Men: Mad Avenue."
But this didn't alter anyone's performance as they faced "increased pressure…but that…exposure is welcomed," Thomas said.
Thomas said the notes he received from Disney, Marvel and Bayer will both consciously and subconsciously influence any future productions of "X-Men."
"I wasn't sure if I was the right person for this musical, I'm not a superhero-y person," said Bayer. "But after the production that I've seen these kids put on, this was absolutely the perfect place to begin the world premiere of X-Men."
Leave a Comment