Perspective: World languages unite through soccer
A World Cup Tournament took place at Oak Park and River Forest High School this spring, but the mission of this event went beyond soccer.
After school on Thursday, April 27, the World Languages Division held its annual soccer tournament with teams representing foreign language classes: France, Italy, China, Japan, Germany and Spain. Teachers sponsoring the event included Rena Mazumdar, Betsy Farley, Jessica Howell and others.
I was a participant in the tournament and everyone, regardless of what language class they were in, was spending time together and having fun. The field was packed with people, some wearing face paint or waving flags representing their team country. Friends supported one another even with the competition, and the underclassmen were given just as much playing time as the upperclassmen.
The idea of this multicultural event started almost 10 years ago after Mazumdar saw France win the FIFA World Cup. She decided to put together a game of soccer between French and Italian classes for fun. Since then, the tradition has grown and now includes multiple language classes.
Although Mazumdar teaches French, her first language is Bengali. She recalled the challenge of trying to learn foreign languages as a child. "I didn't know English when I first came here," she said. "Learning English, I was 6. [It] was easy. I watched a lot of television. But French, you know, it takes a while, it doesn't come overnight."
But the key to truly learning a language is more than taking a class, she added. " It takes a commitment beyond school, you know, to find opportunities."
Like Mazumdar, I wasn't born in America, so English isn't my first language. I was born in Iraq and moved to America when I was only 7 years old. I didn't understand when my teachers or other kids would talk to me, and it took me almost a year to finally pick up on a couple sentences. Thankfully, after I got the hang of it, I was able to make a friend and talk to people just enough for them to know who I was.
There are so many students who struggle to get the hang of learning a language. It's imperative that everyone finds their strengths when it comes to understanding a new language and culture, regardless of their skills. I think that's the point of why these teachers decided to host the tournament. There are a lot of students in the program who are foreign exchange students or bilingual that struggle in fitting in, and this helps them connect with everyone and also be part of a community.
Farley, another language teacher, gave me insight on how she's seen this event grow and change people as well. At last year's event, a French foreign exchange student had the chance to be an American-style cheerleader–a rare opportunity for her. "It was fun to see Eloise do that and also just some of the leadership that I see from like Sam Gray."
Gray, a junior, led the French team to victory. He described the tournament as "a time of enjoyment, and it kind of brings everybody together, all the languages having fun."
Gray speaks Spanish and English, and he is currently learning French. "It's always great to have…new languages in your capability, just to…travel places and do stuff you wouldn't be able to do if you only knew one," he said. "I feel like it's better if you know more because then you can teach other people…I think it's a great idea to learn new languages."
For Gray, learning a new language opens up new opportunities and enhances your skills in life. He wants to encourage people to learn a new language because, "Being able to interact with other people with different experiences will encourage people to do it more and learn more about the culture," he said.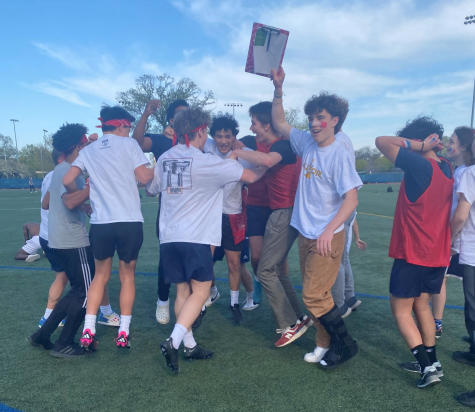 Leave a Comment