After nearly 3 decades, Mertz to retire from OPRF
After 29 years of teaching American history at Oak Park and River Forest High School, Richard Mertz will retire at the end of this school year.
Mertz has dedicated his career to teaching and has impacted thousands of students over the years. His commitment to educating and mentoring students in the subject of American history has left a lasting impact.
Amy Hill, head of the History Division, said, "Mertz has been an inspiration to us all. His dedication to teaching and his passion for American history have influenced the way we teach and the enthusiasm we bring to our own lessons."
Mertz took an unusual route to North Scoville Avenue. After graduating from college and law school, he worked in the world of corporate law. Although the job was financially rewarding, he sought additional fulfillment in the world of teaching, he said. He came to Oak Park and River Forest High School, and enrolled his own children in the school. He took a huge pay cut with the new adventure but has never left in almost three decades. Mertz's impending retirement has led him to reflect on how the role of teaching has changed over the years. "The way history is taught has changed dramatically since I started teaching," he said. "Teachers today use a range of multimedia resources to engage students and bring history to life."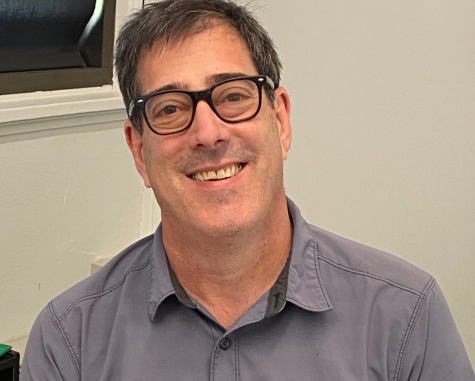 "The role of teachers today has become more complex, and we are expected to do more than just impart knowledge. We are also responsible for developing students as critical thinkers and preparing them for their future careers," Mertz added.
The days of rote memorization of dates and places are mostly gone. Instead, students must be better equipped at analyzing events and discerning the veracity of historical data.
Mertz's approach is in line with recommendations by the College Board for AP United States History (APUSH). According to a 2015 story on National Public Radio by Anya Kamenetz, "The controversial 2014 framework…was the first update since 2006, and it signaled a big shift away from important names and events toward interpretation and comprehension: debating ideas instead of regurgitating facts." This change in the test has been reflected ever since in the way APUSH is taught at OPRF.
Although classes like APUSH no longer require nearly as much memorization, Mertz personally remains an incredible source of esoteric American trivia.
His encyclopedic knowledge is reflected in his class on almost a daily basis. He even helps students prepare for competitive Scholastic Bowl, which is the high school equivalent of Jeopardy. In the spring of 2017, the OPRF team took fifth in Illinois, the best finish in OPRF history. Mertz also leads Mock Trial, a team where students simulate real trials and practice the scenarios involved.
Aidan Esparza, a senior who took part in both activities said, "You can just kind of talk to him as a friend…he enjoys what he does. He's really nice to be around."
Senior Aurelia Brice agreed. "He's a great coach, supportive and always trying to help us do better," she said.
Students in Mertz's classes also reflected on the positive difference he made in their learning. "He's unique and makes me excited to come to class everyday," said sophomore Noah Steltzer Jocks. "At the beginning of the year, I was really scared about taking my first AP class, but Mertz quickly made learning about American history way more interesting and fun than I thought it could be."
Sophomore Isaac Huppke agreed and said, "Mr. Mertz has had a positive impact on my life because he's challenged me to grow as a student and participate in class, even if I don't feel confident in my answer."
"He's a very hands-on teacher," said junior Jackson Kluger. "I think his legacy will be remembered as someone who cares less about grades and more about learning."
Leave a Comment