Behind the success of the Harvard-bound Huskies
Three-point four one percent. That was the acceptance rate for Harvard's class of 2027, according to its website. Of 56,937 applicants, 1,942 students were admitted. Thousands of competitive applications were rejected.
Three Oak Park and River Forest High School students from the class of 2023–Nadya Dhillon, Heidi Enger and Ezekiel Wells–have committed to Harvard after receiving their acceptance. The most recent time an OPRF student was admitted to Harvard was in 2020, according to Brandi Ambrose and Pete Nixen, two OPRF counselors.
All three of the Harvard commits were pleasantly surprised at being accepted. Enger said, "I really was opening that letter, and I was like, 'This is going to be a rejection.'"
Wells noted that "a lot of it does come down to luck."
Dhillon said, "It was kind of a surprise for me when I got in, as it was the only Ivy I applied to." This sense of luck, and of being possibly overwhelmed by a competitive applicant pool, is not reserved for Harvard applicants.
However, the doubt that creeps in during application time can be intensified by a school of Harvard's reputation. Both Dhillon and Enger said that they almost didn't apply to Harvard, but a close friend and/or a family member convinced each to do so. Because why not? As Enger put it, "It's the same tiny chance for everybody."
Those low odds of admission may be true. But Dhillon, Wells and Enger share important traits. For one, unique experiences gave each a refreshing perspective. Dhillon has traveled the world with her dad, a doctor, and she said, "That was when I knew I wanted to do a lot of international medicine." Wells lived in China from when he was four to nine, saying that the experience "built a foundation of knowledge about the world that I then used in other aspects of my life.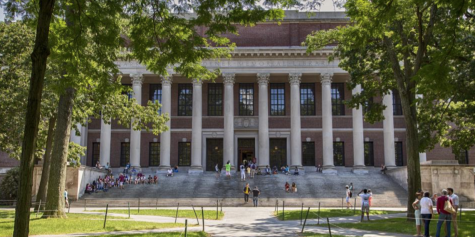 Wells gave his interview within the cavernous classroom for Investigative Research, Design and Innovation, full of lab equipment and adorned with posters of projects created by current and former OPRF students. Both Wells and Dhillon participated in the class, which gives students the opportunity to undergo extensive scientific research on a real-world topic and present their findings at regional and national competitions. Dhillon said that, "IRDI definitely helped a lot" with her academic skills and was a good topic for writing about in college essays.
Nixen and Ambrose, the college counselors, expressed their view that the key to a strong college application was "how a student spends their free time." Ambrose noted that schools want well-rounded students that are good people, which can be most obvious in the extracurriculars they pursue.
As for Enger, she has put her entire life (from the age of 3) into dance and orchestra. She has also, since freshman year, worked for Crest, OPRF's literature and arts magazine, which she said, "was just a wonderful little niche for me to be in." As its current editor-in- chief, she spearheaded the effort to build the Crest website, with an archive designed to capture decades of student work.
Dhillon, apart from her national recognition with IRDI, founded Med Club with her sister. Wells has centered on Science Olympiad, speech team and philanthropy, having raised more than $21,000 for mental health awareness through walkathons he organized while at OPRF.
According to Ambrose, the counselors "ask students to enjoy the curriculum, find out what their interests are, and work from there." This is the secret to success, as echoed by the Harvard-bound kids.
Dhillon said, "In the beginning of high school, follow literally what you're interested in."
Enger added, "The biggest lesson I would say to people is do not do things just to get into college…Don't think that your life has to fit into this perfectly bound little story." In other words, students should follow their passions in high school, because it is better for their own health and happiness. After that, college falls more or less into place.
Dhillon, Enger and Wells didn't expect to go to Harvard. None of them considered it their dream school. All were skeptical that they could overcome the statistical obstacles. Each had to make difficult decisions after being accepted. But through academic dedication, extracurricular accomplishments and by showcasing strong character, they ended up headed for Cambridge.
As for everyone else? As Ambrose said, "The talent in our senior class is abundant." All OPRF seniors have the skills to succeed, wherever they plan on going after graduation. Nixen said, "It is really important to stress that each kid's collegiate destiny is unique." The diversity of OPRF's post-graduate outcomes and achievements shows that there is no wrong answer when it comes to college.
Leave a Comment