Athlete in Focus: Reese Garland
Reese Garland placed second in discus and fifth in shot put at IHSA's Girls Track and Field State Championships at Eastern Illinois University on May 19 and 20–true to her senior superlative "Most Likely to be an Olympian" named by the oprf23decisions Instagram page.
She has been a three-sport athlete for the majority of her high school career at Oak Park and River Forest High School. Next year, she has chosen to pursue a future in track and field at the University of Southern California, a Division I school.
Her commitment is especially impressive considering she is currently only trained in discus and shotput, two of the five field events she will continue in college. "I'm so lucky because usually, coaches are looking for experience with all five (events)," Garland said. This past January, USC coaches saw Garland's potential and offered her a spot on the team.
Though Garland was torn between some schools, USC was the stand-out option for her. "You can't say no to the athletes they produce and the Olympians they produce," said Garland.
In order to prepare for her upcoming track and field season, Garland plans to train in javelin, hammer throwing and weight throwing this summer.
Throughout this past season, which officially began in January, Head Coach Nicholas Michalek said Garland has "gotten faster, she's gotten stronger and because of that she's been able to throw further."
Despite the pressures that come with entering USC, a rigorously academic and elite athletic college, Garland is nothing but ready. "I'm super excited, and that's why I'm really…driven to do well this season."
In fact, Garland turns most of her would-be anxieties into motivation. Expectations are high for this DI-committed athlete. "I feel like I do have to do well," she said. Fortunately, Garland thrives on pressure. "In the end that motivates me," she said.
Her competitive nature has allowed her to work hard and excel in a sport even under stressful circumstances. From UNO games to chess, Garland loves to compete as she is "always trying to win," she said.
"She is the most competitive when someone's beating her," said Michalek.
Being competitive helps in a sport like track where it is "you versus another person," said Garland, who enjoys the individualistic competition.
"We have a lot of individual events and then all of those events feed into one team score," said Michalek.
Garland holds
herself accountable for her team's success. "You're doing your best for your team," she said.
Garland also encourages others on her team to be successful and work hard. "She pushes me to do better," said teammate and OPRF junior Bri Davis.
"She's a real(ly) social person," said Michalek, "She's able to get out and inspire a lot of people," he said.
Garland was awarded homecoming queen in the fall as well as "Biggest Social Butterfly" by the decisions page.
"She's really funny," said Davis. "I love her humor."
In the future, Garland is striving to make her superlative come true. "I'm definitely trying to get to the Olympics," she said. "With my training, I definitely think I could because it's just the mindset you have to have."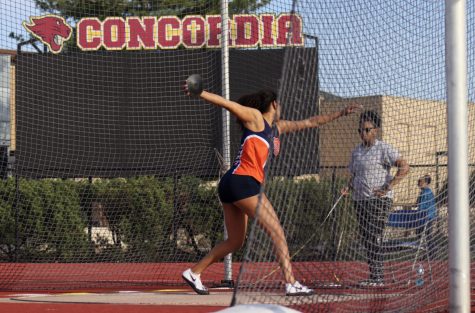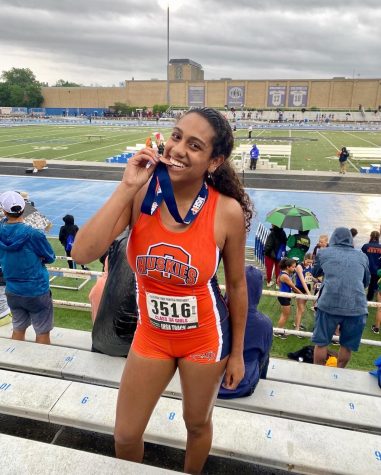 Leave a Comment