Girls Lacrosse defeats Fenwick, adds to winning streak
The Oak Park and River Forest High School Girls Varsity Lacrosse team beat Fenwick High School 18-7 on May 19. This matchup of crosstown rivals was an emotional celebration for the seven graduating seniors on the roster.
From the first draw to the last few seconds, the stands, packed with parents, friends and girls lacrosse alums, cheered with unwavering energy for the 2023 lineup, which senior Grace Koch describes as, "the best team to come through OPRF."
Koch, who is a captain along with Mia Trotta, Rachel Simon and Kai Coffee, made a fiery start to the game with draw-control possession and two goals within the first two minutes. Seniors Audrey McKenna, Isobel Saydah, Oona Stewart and Trotta also quickly distinguished themselves by putting up a strong defense against Fenwick's powerful attackers.
The success against Fenwick adds to the team's win-loss record of 13-6 at press time, according to the MaxPreps website. The team was also ranked second in the Western Suburban Conference.
"We have played the hardest teams in the state, but each time we bring our all regardless of the team we are playing," said Trotta.
Head coach James Borja, who has been in charge of the girl's lacrosse program for five years, believes that the leadership of the senior class has "set the tone for this year… [The seniors] have set that expectation that every game we play, we are going to win."
On May 22, the team won their first playoff game against Glenbrook North High School, 19-6. OPRF is hosting the IHSA sectional semi-finals this year, which will allow the girls to garner support from the Huskie community.
According to senior captain Simon, the team is gearing up for playoffs with, "lots of practice, film and team bonding."
"A lot of our wins have felt supernatural, and things are just working, so we are trying to keep that chemistry going," said Koch.
Koch, Simon and Trotta attribute much of the success of their team this year to the tight-knit friendship between the players. "It feels like a friend group. We
are extremely close and it shows both on and off the field," said Trotta.
The closeness of the team made for bittersweet senior night celebrations on May 19, as the imminent departure of the seniors elicited tears from players and fans alike. "The seniors will be greatly missed," said sophomore defender Caroline Mann.
"I can't imagine the team without them," added sophomore attacker Ava Albukerk.
Friendships and teamwork are undoubtedly an integral part of girls' lacrosse, and as the seniors prepare for their lives after high school, Borja advised them to "keep the connections they've made."
Even as the seniors leave the program, they will not forget the impact that OPRF lacrosse has had on their lives. Koch said, "This is a special team and a special culture, and I'm so lucky to say I'm a part of its history."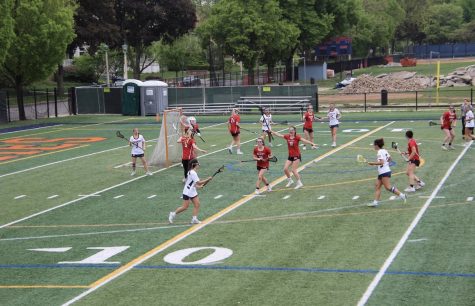 Leave a Comment