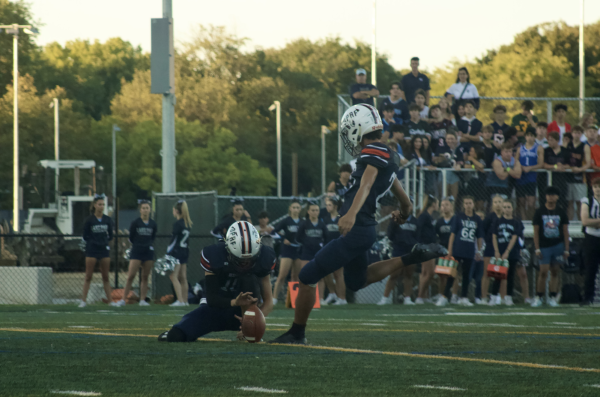 The Huskies are in it to win it this season! The varsity football team at Oak Park and River Forest High School is gearing up to dominate with the guidance of their head coach, John Hoerster, and captains Sam Gray, Kaden Garland, Khalil Nichols and Bobby Haagenson.
To kick off the season, the Huskies were faced with a big challenge. On Saturday, Aug. 26, the Huskies took on cross-town rival Fenwick High School at Triton College. After a tough battle the Huskies fell 13-34 to the Friars.
The following week the Huskies hosted their first home game on Friday, Sept. 1 against Lake Park High School. The Huskies made their record 0-2 to start the season after falling to the Lancers 16-18.
But the Huskies shifted the tide Friday, Sept. 8, beating on Proviso West High School 33-14 in their second away game of the season.
At press time, the team was set to face York High School on Friday, Sept. 15.
The team spent an entire off-season preparing for these opening games. Hard work along with dedication are just a few of the things that came out of those 6 a.m. workouts. Senior linebacker Haagenson said, "This summer and off-season we went into every day trying to be the best possible team we could be… you have to go 100% every day." Haagenson went on to explain the importance team bonding had on the Huskies and how it enhanced their overall performance.
The Huskies also spent their off-season rebuilding the team due to the loss of senior players. The team's chemistry was a big focus for senior linebacker Sam Gray. "I really wanted to focus on changing the culture and making us competitors at all times… making it so that I can give them a role model, not only as a football player but as a student around the school," he said. Gray said his main goal this summer was to become an influential figure on the field for his younger teammates by setting a good example for how they should carry the team in the future.
The loss of the seniors has been no obstacle for the team as they've welcomed the rise of younger team members, he added. Sophomore Johnny Nelson has stepped into a role of full responsibility as starting quarterback. Nelson said, "I just tried to learn as much as I could from my coaches and older teammates so I could be prepared to help lead the team." This season, he wants to become a good leader and learn as much as possible, he said.
While handling the weight of this responsibility, Nelson has managed to keep his cool when presented with tough situations mid-game. Nelson has shown resilience, particularly with being able to throw the ball under tight pressure from defense when competing against cross-town rival Fenwick. His accomplishments wouldn't have been possible without the help of his four role models, he said.
Growing up Nelson watched his older sisters leave their mark on sports, which led him to follow in their path. While these players have goals of their own they wish to accomplish, like becoming great role models and getting to the playoffs, Hoerster has a few of his own. While many football fans care more about the score and how much fame they can get off of moments under the lights, Hoerster has other plans.
Hoerster's coaching style takes after his father, who he recalls being his mentor. He believes in the importance of building relationships with his team, he said.
Along with the influence of his father, Hoerster reflects on how being a father himself makes him see the bigger picture of coaching a team by making sure that he is there for his players as students. "You have 24 hours to feel great about yourself and 24 hours to feel sorry about yourself, and then you have to focus on what the next day offers," he said.
Hoerster seeks to keep his players mentally focused to create a playing environment that helps the boys strive for greatness. "If we have a growth mindset to understand that we are imperfect and that there are ways we can improve… we can enjoy every day together," he said.
Hoerster creates a family environment for the players so that the chemistry that they build reflects on how they play.
With the mentality of leaving it all on the field, the Huskies will continue to compete the rest of their season, but that leaves one question: are you in it to win it as well?