From afar, room 3112 may look like the average AP United States History class. But up close, sounds of laughter and engagement can be heard echoing throughout the classroom. Here, Tyrone Williams teaches AP U.S. History, AP African American Studies and African American History.
This year, Williams has been recognized nationally for his excellence as a history teacher with the 2023 Illinois History Teacher of the Year award, presented by the Gilder Lehrman Institute of American History.
On Sept. 7, the institute announced that Williams is also one of 10 finalists for the 2023 National History Teacher of the Year. The winner will be announced at their ceremony this fall.
The History Teacher of the Year award is annually presented to 53 teachers, one in each state as well as the District of Columbia, Department of Defense and U.S. Territories. The Gilder Lehrman Institute of American History is a nonprofit organization dedicated to promoting education in American history.
Teachers of American history in kindergarten through 12th grade are nominated by students, parents, colleagues, principals and administrators. A committee of history educators, professors, former state winners and education professionals come together to sort through the nominees and select the winners at the state level, later choosing from the state winners a National History Teacher of the Year.
Each winner receives a $1,000 prize, an archive of classroom resources and recognition at a ceremony in their state, but best of all, the honor of knowing that their work has had a positive impact on their students.
Williams has been teaching at Oak Park and River Forest High School for 18 years.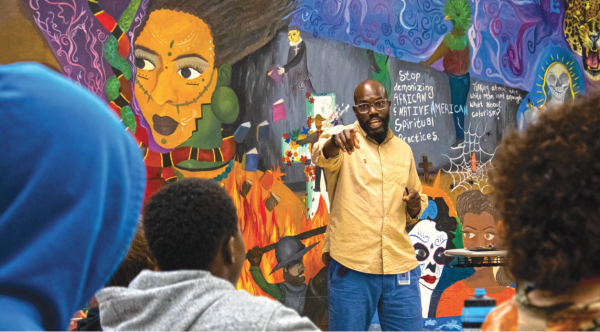 "I've had some incredible mentorship. I got an opportunity to learn from some incredible men and women throughout my entire academic experience," Williams said. "And what [this award] means is an opportunity for me to extend a hand back to a younger generation of students and share with them all the wonderful things that my mentors in high school, in my local community, at my university…all the things they shared with me."
The award acknowledges Williams for the way he engages with students. On this front, Williams said, "I hope [my students] leave my class feeling confident, competent. I hope they leave my class recognizing that they have a lot to say in how we shape the contours of our democracy. And more so than anything, I hope they leave the space just getting a better understanding of who they are as people. That's always my goal."
A previous student of Williams, OPRF junior Ben Streiffer, was thrilled when he heard the news of Williams' success. "Dr. Williams was most definitely qualified for the award," Streiffer said, citing the "passion that he had for the material" as an important factor.
"It is obvious that he cared about nearly every topic that he taught," Strieffer added. "His deep knowledge and passion for history is integral for any history teacher, but he exhibited it more than any other teacher I've had."
Asher Frank, a junior and past student in Williams' AP U.S. History class said, "He taught me how to be a good student and an even better person. If there's one teacher who will stick with me for the rest of my life, it will be Dr. Williams. I'm very grateful to have had him."