Former Chicago Police Department officer Cindy Guerra was hired July 13 as the new director of campus safety, replacing Cherylynn Jones-McLeod. An additional six security officers were hired as well.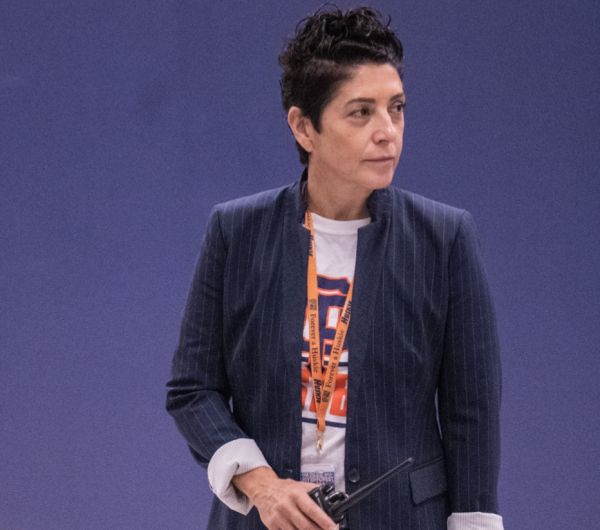 Guerra has experience on school grounds prior to Oak Park and River Forest High School; she facilitated three campuses on Northeastern Illinois University as chief of police. She also served as school sergeant in the Chicago police department and supervised 54 schools. "I want to make a safe, inclusive environment," she said. "I want to get to the point where students can come to school and not have to worry about their safety."
Jones-McLeod resigned due to personal reasons nearing the end of last school year, which "was a hard choice for her to make," said Principal Lynda Parker.
Guerra has a background in psychology, graduating with a degree in the field from Adler University in Chicago. Parker said this knowledge will serve Guerra in her role at OPRF, due to her ability to communicate with students. "She's very restorative in her approach," said Parker, adding that Guerra balances kindness and focus when keeping the building secured.
After receiving a psychology degree, Guerra said she later pursued a bachelor's in law enforcement management. She worked in the Chicago police force for 27 years, beginning in 1994.
In addition to her psychology and law enforcement degrees, she is certified in both crisis intervention and electronic criminal surveillance.
Guerra held many positions in her time as a law enforcement officer. She first worked in the gang unit in Chicago and in the narcotics department. Later in her career she became a sergeant, primarily focusing on domestic violence. She also worked in the Office of Communications as the public information officer and was promoted to lieutenant.
Superintendent Greg Johnson wrote in an email that, "We are very excited to have someone of Ms. Guerra's level of experience and expertise leading our safety and security team. In the short time she's been here, she's shown an impressive level of caring for our students and a fresh perspective to our overall approach."
Guerra added, "I think my level of awareness and my lens, how I see things, is at a higher level because I know what can happen." Johnson and Parker said they have already seen changes in the environment on campus now with Guerra permitting a fresh start to the security team.
"I've noticed that students getting where they need to go has been smoother. I've noticed that people are more positive in their interactions out in the hall," said Parker. Guerra's wealth of experience will help her support the security team effectively this year, Parker added.
Guerra ultimately retired from the police force to pursue campus security after being offered a position at Northeastern Illinois University. Her accomplishments there included implementing the first active shooter drill, she said. She also led the emergency management team.
At OPRF, Guerra will oversee a staff of 34, including six security guards hired last year after a special request to the District 200 School Board from Parker.
Parker noted that the reason for additional security was not necessarily due to an increase in violence, but rather to cover more areas within the school building. "It's very hard to be everywhere when you don't have the number of people to do that," she said. "So that's why the extra people have been of help." Parker and Guerra stress that students must play their roles in keeping school secure, and that it is a communal effort.
Wearing IDs is a crucial part of school safety, said Guerra, as it "allows faculty and students to make sure you belong here."
Parker said, "IDs aren't the solution. They're a part of the solution."
Guerra said her priorities concern students entering and exiting the building. Ensuring that students abide by the ID rules will minimize issues for students and faculty.
Safety is a collaborative effort, both Parker and Guerra said.
Parker added, "Suggestions are always helpful. So I'm willing to work with ideas students might have."
With the new director of campus security with such a deep record in protection, and the cooperation of students, the OPRF administration is aiming for a safe school year.