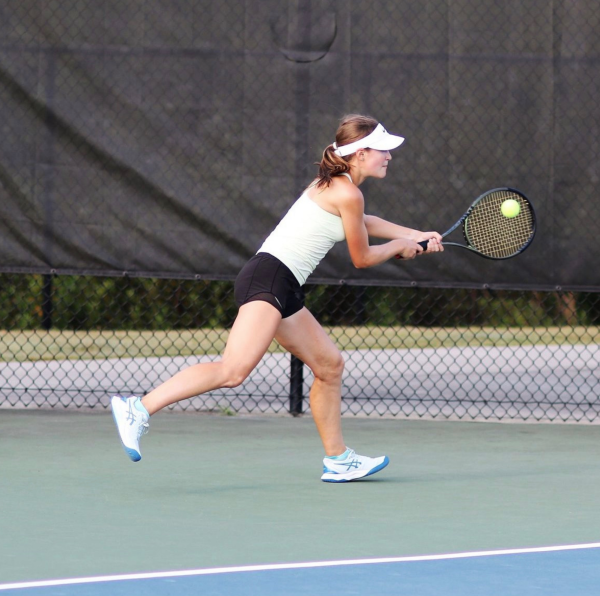 From taking childhood park district tennis lessons to being a potentially state-bound athlete, Oak Park and River Forest freshman Lucy Stein has spent much of her life dedicated to the sport.
Her love of tennis has driven her to continue her career into high school. "I really love the competition," she said.
Senior tennis player Kathryn Meister said, "She is so consistent, never misses and is able to have extremely long rallies."
Stein "moves well on the court and between shots in order to get into position," said Head Coach Fred Galluzo.
Members of Stein's family, including her older brother, father and grandfather, played tennis. Despite this hefty legacy, Stein feels no family pressure. Instead, "it's supportive, like (wanting) to do well for your family," she said.
Stein also appreciates the support from her older teammates, who she says give her rides home and advice. "I look up to all of them," she said.
I love being on (the) team," Stein added. "Everyone.. is so supportive and nice. It's been so much fun."
Galluzzo noted that the varsity roster has many strong athletes. "We've got a nice group of not just nice people, but we've got some solid players," he said.
Stein's teammates and the team's success also keep her motivated to win."You have to keep the team in mind," she said. "You're not (only) doing it for yourself, you're doing it for everyone else, too."
On Aug. 5, the team played state champions Hinsdale Central High School. Stein was among the winning players.
"We normally never win any matches against them," said Stein.
Meister credited Stein's victory to her toughness on the court. "She never gives up during difficult matches and is able to close out tough matches," Meister said.
Galluzzo said he intentionally pits Stein against "players in the state that will be seeded (high)."
Even though Stein puts up a tough fight with a lot of close games against difficult opponents, "it's still hard to lose," she said.
However, to Galluzzo, effort put into the competition is much more important than the score. "You're really just trying to do the best you can every minute you're on the court," he said. A favorite Stein preparing to hit ball. (Lucy Stein)
to play at the state competition this year, Stein is excited for the chance to push herself against talented competitors. "There's going to be a lot of people that are a lot better than me," she said. Despite this challenge, Stein hopes to place in the top four in the state during her high school career.
"That's certainly a possibility," said Galluzo.
Looking to the future, spectators may see Stein outside of her usual single matches. "I'd like her to play some doubles, also, and learn that game," said Galluzo.
"I can't wait to see all that she accomplishes during the season and the rest of her tennis career," said Meister.