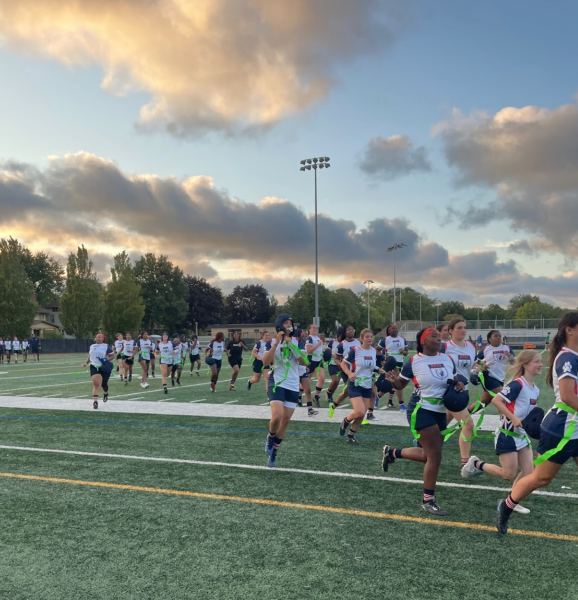 For many Americans, the start of fall means football. The crowded stands of the Oak Park and River Forest High School stadium on Aug. 26 proved no different.
However, this crowd was not gathered to watch boys tackle each other. They came to see an equally exciting and ruthless game of girls' flag football–the team's first game without their beloved coach Jean "Tank" Corner, who died on April 30.
Right off the bat, the team put up a tough fight against Larkin High School. While the OPRF girls collected more yards, there were lots of turnovers on downs in the first half. Despite the rough start, the Huskie cheering section stayed wildly engaged throughout by supporting the girls and disputing countless calls.
Into the second half, it was still a tight match; neither team had scored. Then, with about a minute left on the clock, senior running back Khalaya Coleman had a rushing touchdown. After a pass was completed to junior wide receiver Jada Noyes, the two-point conversion was successful, making the score 8-0.
Fans erupted in cheers, and after the girls followed their Assistant Coach Christian Ledbetter's instructions to, "show character, shake hands," they ran out to meet their lively supporters.
The Larkin game was extremely meaningful to the team, not just because they started their season off with a victory, but because it marked their first game without Corner, their late coach, whose death at age 52 shocked and saddened the entire OPRF community. However, the girls continue to be guided by his legacy. "
We talk about him before every game, before every practice, after every game, and after every practice," said senior linebacker Tyler Brock. The weekend of Aug. 26, Tank's jersey number was officially retired; number 34 will never be worn in the program again. Instead, each girl's jersey has a small 34 engraved on the back to memorialize their former coach, who had a great impact on his players both on and off the field. "He always had our back," said Brock. "He made sure we were safe no matter what."
Head of intramurals Jim Geovanes said that "[Tank] was one of a kind. You are never going to find someone with his smile, with his heart, with his passion, with his wanting to help people." Tank inspired his team to be better players and people, which is why their motto this year is, "This is bigger than football," said Mr. Geovanes.
At the Larkin game, Tank's uniform sat on the sidelines, unifying the team through his memory. "The more we thought about him still being alive and still being there because of that uniform, the better we got and the better we became as a community. Because of that we really brought it home today," senior Chloe Johnson said.
This year, new Coach Ashley "AJ" Johnson notes that there are, "big shoes to fill." However, the Huskies' victory against Larkin proves that she is more than equipped. "I definitely want to keep the momentum and the morale and build a bigger and better situation," said Johnson.
With a season of intense matchups approaching, the girls are training hard. One team captain, senior Leen Alaraj, said, "We all push each other, compete with each other, and support each other to be the best players we can be." Senior Fayith Anderson, who is also a captain, believes that the team's tight-knit connections greatly improve their performance: "The best motivation is to know that your teammates got your back," said Anderson.
"Only way we get better, we get better together," Johnson added.
In the 15 years that girls flag football has been at OPRF, it has progressed from a homecoming special activity to, "a whole league that's going to have a state championship and has 124 teams competing for one trophy," said Geovanes. This year, the team is hoping to make it all the way to the state finals. "We've already come so far from our first practice and I can't wait for how much farther this team is going to go, both this season and in the coming years as an IHSA sport," said Alaraj.
"These girls are doing something special," said Johnson. "I just really want these girls to feel like they are making a difference."