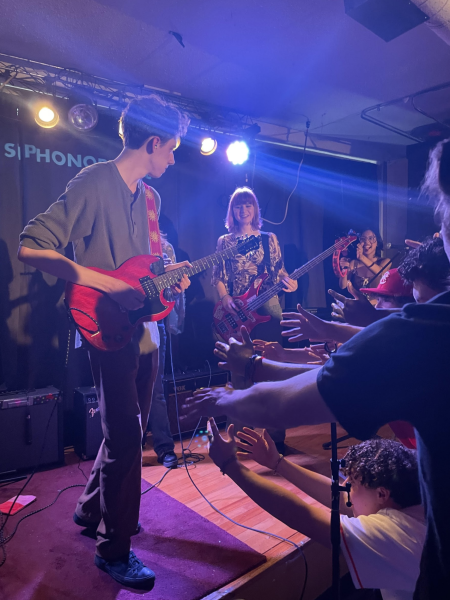 If someone is looking for locally made music in Oak Park, they need not look further than Val's halla Records on Harrison Street, where local bands can be found performing every Sunday morning. Student music groups are able to play for crowds and obtain a platform to spread their name to patrons who attend.
Siphonophore, one of several bands created by students from Oak Park and River Forest High School, had its first performance at Val's halla for an open mic event, which they said is an incredible way to benefit both the artist and listener.
The shows are typically free and allow the audience to become "much more intimate with the bands and the other people there at small venues," said Jules Weir, one of Siphonophore's founding members.
Siphonophore, a band composed of three OPRF students, has been a group around the community for several years, yet members have changed as time has passed.
The current members are senior Weir, junior Lauren Gullo and newest addition Cameron Richmond, who is a freshman.
They began as a cover band, with heavy influences from Måneskin, an Italian rock band. "We don't pin ourselves to one genre," said Weir. The trio said they try to incorporate all of their tastes when choosing songs to make or cover.
Siphonophore has officially released one original song on streaming platforms titled "Blood on His Hands," which was published in April. The band said that, other than their original piece, their music can range from reggae to alternative pop. However, lately they have been leaning towards a "grungy" style inspired by Nirvana and Pearl Jam, according to Weir.
Recently the band got some exciting news: their music will be featured in an upcoming independent short film (which remains unnamed until it is released). The short film is planned to be shown at various film festivals, and will allow for plenty of exposure, since film and music professionals will have eyes on it.
Senior Miles Toppen, another student musician, also spoke to the value of creativity and collaboration. Toppen is the lead singer for a punk band titled The Dennies and plays piano for a "psychedelic rock band" named The Phonecall. "People go out to local shows because it's a community and a close-knit thing, where you get to know these people that you otherwise would have never crossed paths with," Toppen said.
Toppen also underlined the relationships that bands can provide. "You're meeting people who you would have never met," he said, highlighting the comradery that accompanies playing in a band and how fulfilling it is. He said that he initially was somewhat distant from his band-mates. Yet, they are now the people he is closest with.
The benefits don't end there, the student musicians said. Networking is the biggest skill I've gained from my time in bands… and work ethic in general," Toppen said. He elaborated further by stating that the process of turning thoughts into songs, and using music and songwriting as a manner of self-expression is a valuable trait.
Weir said, "It's fun to express yourself through songs." She said even through cover songs, putting your own spin on it an provide an opportunity for expression.
Gullo agreed, claiming that music has provided her with moral support throughout certain times in her life. "It's a very good way to connect with others," she said. Toppen said, "support your friends, your local music community…go to local record stores, go see local bands."
"There's so much talent in this community," added Trevor Toppen, Val's halla staff member who is also Miles Toppen's father. "Oak Park is a community of art; it's a big piece of who we are. We have the ability to share it."