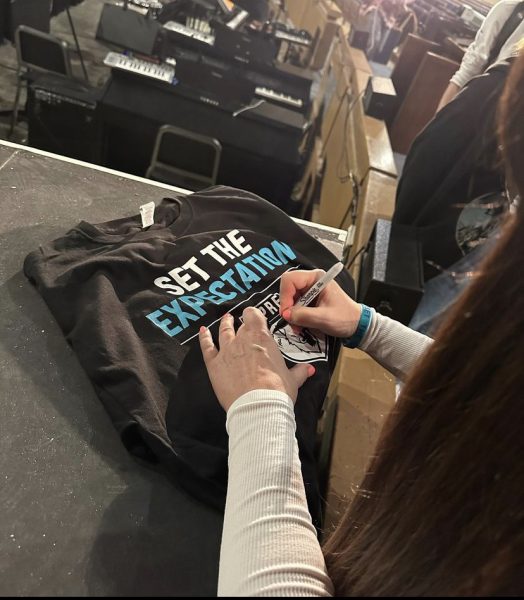 Oak Park and River Forest High School hosted the third Set the Expectation sexual assault awareness event Sept. 8 to 14 with a special speaker: sexual violence advocate and National Service Courage award honoree Brenda Tracy.
"It is important to make sure that as much of the student body as possible is aware of sexual assault and what they can do to stop it," said senior and Set the Expectation participant Simone Arvetis. "Set the Expectation is a good step towards ensuring a safe environment in schools when it comes to reporting and avoiding sexual assault and harassment."
Set the Expectation is spearheaded by Linda Carlson, a physical education teacher at OPRF. Under Carlson, the program began in 2019 as sexual assault awareness specifically for seniors to wrap up their high school career and has continued through today, with a curriculum developed by Carlson and the other self defense and Step Back teachers at OPRF. Much of the Physical Education curriculum at OPRF is
designed around personal safety, including the health class required for freshmen, the self defense unit for sophomores and the multiple P.E electives for juniors and seniors.
"Senior year we decided to pull them out for P.E for six days, and have a discussion as they're going off into their post-secondary careers, to rethink about what they've learned earlier in our curriculum," said Carlson.
Preparing students for mindfulness beyond high school was the initial inspiration for the event, which then became Set the Expectation when Carlson discovered Brenda Tracy. Fellow P.E. teacher Max Sakellaris and Carlson found a video on ESPN about Tracy and her nonprofit called Set the Expectation. "And as soon as we saw it we were texting each other; like 'oh my gosh, we have to get her in'," said Carlson.
Set the Expectation has traditionally taken place in the spring, but this year it will happen in the fall based on student feedback after last year's event, according to Carlson.
Another factor taken into consideration was the upcoming homecoming dance taking Sept. 23. "The fact that it precedes homecoming, I think, is smart. A lot of awful things happen (at the dance)," said Bella Lubelchek, senior and president of SAFE (Students Advocating for Equity).
Lubelchek, along with members of SAFE and hundreds of other students, on March 10, 2023 participated in a walk-out following the Set The Expectation event in spring of 2023. The walkout was prompted by dismissive comments made during Tracy's presentation.
This year's Set the Expectation featured a similar schedule to last year, but a greater awareness of sexual assault after SAFE's walk-out, according to Lubelchek.
"I hope that people will approach it (Set The Expectation) with a higher degree of seriousness, and I hope that people will take what is being said into genuine consideration," she said prior to the event.
At press time, Set the Expectation was proceeding on schedule, with no disruptions. Set the Expectation has sparked conversations schoolwide about the importance of sexual assault
awareness and helping survivors, as students saw with the powerful stories shared at least year's walkout.
Because of the positive effects Set the Expectation has had on the school, there will also be a new curriculum for juniors coming in February 2024, providing sexual assault awareness for even more members of the community, according to Carlson.
Carlson's advice to the OPRF student body, from freshman to seniors, is to " always be empathetic. You don't know who's around you with your comments. You don't know everyone's stories, and stop assuming things just by someone's gender identity, whether they're a survivor or not."