Oscar Garcia stood on the sidewalk outside the District 15 Police Station in Chicago's Austin neighborhood, in front of a row of ramshackle tents. Nearby, children played and whizzed by on bikes, and a young man gave fade haircuts to several others. A table was piled high with clothes, ham sandwiches, water and other supplies.
Garcia, 41, is among a growing number of asylum seekers who have made their way from Venezuela and other countries in recent weeks to Chicago. Without homes, the asylum seekers have been living in and outside police stations, including the one in Austin.
Since July 2023, Texas Governor Greg Abbott has bussed more than 11,000 people from the southern border to Chicago, according to the city of Chicago's website.
Huskies for Hope, a club at Oak Park and River Forest High School that focuses on service in Austin, has been volunteering for the asylum seekers since Sept. 10.
They have brought breakfast, lunch and treats like popsicles and ice cream sandwiches. Currently, they are sponsoring a "quarter drive" throughout the school to collect quarters so that asylum seekers can
do laundry.
The club sponsors leading the effort are Katie O'Keefe and John Lesniak, with support from students including senior Eva O'Keefe, junior Peter O'Keefe, junior Ryan Wozniak, sophomore Sophia Hernandez, sophomore Lola Zarate and junior Vincent Czarnkowski.
Several other efforts are underway as well, including a coat drive planned by the ASPIRA club, according to club sponsor Kelly Diaz. Spanish Club, sponsored by Manuel Gonzalez, is also collecting sup-
plies, Diaz said.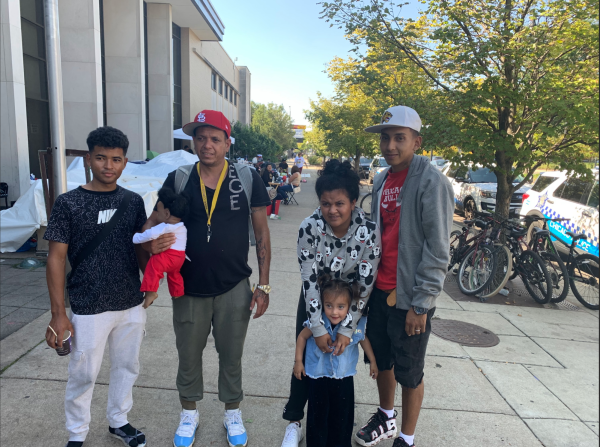 O'Keefe said that volunteering has benefits for those who give and receive service. "Service is something that is supposed to be good for everybody and is especially good for high school students because it takes you out of yourself," she said."When you're doing stuff for other people, you're less worried about yourself."
Czarnkowski, who speaks Polish and Spanish in addition to English, has been tutoring Garcia's son Kelvin, age 22, in English in recent weeks. He has also been active in other efforts to help the asylum
seekers. "Even though they're not from the same country as me, there's still something that connects them to me," he said. "I just want to see them succeed. That's why I feel a need to help."
Czarnkowski volunteered at the District 15 Police station on Oct. 1 and translated interviews for the Trapeze. Through Czarnkowski, Garcia said that he is a refugee from Aragua, Venezuela.
Garcia traveled through the treacherous Darien Gap with his family (his wife, two sons ages 22 and 20, two daughters ages 18 and 11, and a 2-year-old granddaughter). The Darien Gap is a stretch of rainforest in Panama that connects North and South America. It is widely known as a dangerous place, with predatory animals and people seeking violence against travelers.
The family then crossed Mexico to the U.S. border. Through Czarnkowski, Garcia said, "Mexico was the worst part because I had to ride a train called The Beast." According to published reports in The New York Times, this open freight train with metal cars is extremely dangerous. Garcia said that many people on his journey asked his family for bribes.
Many families have to separate due to complications during the migration process. Garcia said that his youngest son, age 20, was detained on Sept. 15 by Immigration and Customs Enforcement under suspicion of being a Latin King gang member. Garcia has not seen him since.
Once Garcia's family arrived at the police station in Chicago, his 11-year-old daughter experienced a throat infection, so she was sent to a hotel to quarantine. Her mother went with her. When Garcia tried to visit, he was not allowed to enter
the building, he said.
Garcia communicates with his family via phone and often through a volunteer named Celine Woznica. On Oct.1, when he spoke with Trapeze, he hadn't seen his wife or daughter since she had gotten quarantined, which had been for five days.
Woznica, an Oak Park resident who has been instrumental in coordinating support for asylum seekers, has a doctorate from the University of Illinois at Chicago School of Public Health. She lived in Mexico for six years and Nicuagua for two
and a half years, and she speaks Spanish. She had two "asks" of OPRF students to help during the crisis.
"The first is youth-to-youth outreach," she said. "There are a number of teenagers at the station. I am fluent in Spanish and can chat with them, but I am, after all, a grandmother! Not the same kind of relationship that OPRFHS teens can develop with the migrant teens."
She continued, "The second ask is that OPRFHS students raise their voices to our elected officials, community-based organizations, local institutions and the residents of OPRF in general to respond to this humanitarian crisis. Chicago should not be bearing the load alone."
When asked about what he needs most at this point in time, Garcia did not hesitate. "To be with my family," he said, through Czarnkowski.
Garcia's family had received an offer earlier in the day to leave the police station and go to a shelter, but that would have meant splitting up, said two volunteers at the station, Sarah Cano and Betty Alz-
amora. So Garcia's family decided to stay and wait for a time when they could all go somewhere together.
In the meantime, they along with others are living in makeshift shelters in and outside the police station, exposing them to potential harm. While Garcia spoke with the Trapeze, a woman walked by, shouting insults at the asylum seekers.
Still, Garcia said he is glad to have arrived in Chicago, and looks forward to finding a stable place to live.
Another asylum seeker, Alver Monteverde, 20, echoed that hope. Monteverde came from Caracas, Venezuela, also through the Darien Gap. He had been in the hospital a day earlier due to an asthma attack brought on by people around him smoking. He needed a private space to live to protect his health, he said through Czarnkowski.
He described his journey as a bittersweet experience, saying that he knows that "at any moment something can go wrong, but as long as I follow the protocol that they give me, there's hope."