The Huskies emerged victorious from their first Model United Nations conference of the year, winning first, second and third place trophies.
On Nov. 4 Oak Park and River Forest High School's Model UN team traveled to the conference, held at St. Ignatius College Prep. The 11 OPRF students who attended were: Tess Carr, Sofia Fitzgerald, Ben Sassone, Sophia Lynn, Nandan Nadkarni, Ava Albukerk, Sophie Welch, Ava Fisher, Tyler Crabbs, Anne Claud and Ellie McGillen.
Three students brought home awards for the Huskies. Sassone took best delegate (first place) in the "Bloodborne: Council of Yharnam" committee. Fisher took home the outstanding delegate award ( 2nd place) for in her "JCC Trojan War: Greek Nations committee of 13." Lynn (who is also on the staff of Trapeze) took home the honorable delegate award (3rd place) in her "European Union committee of 27."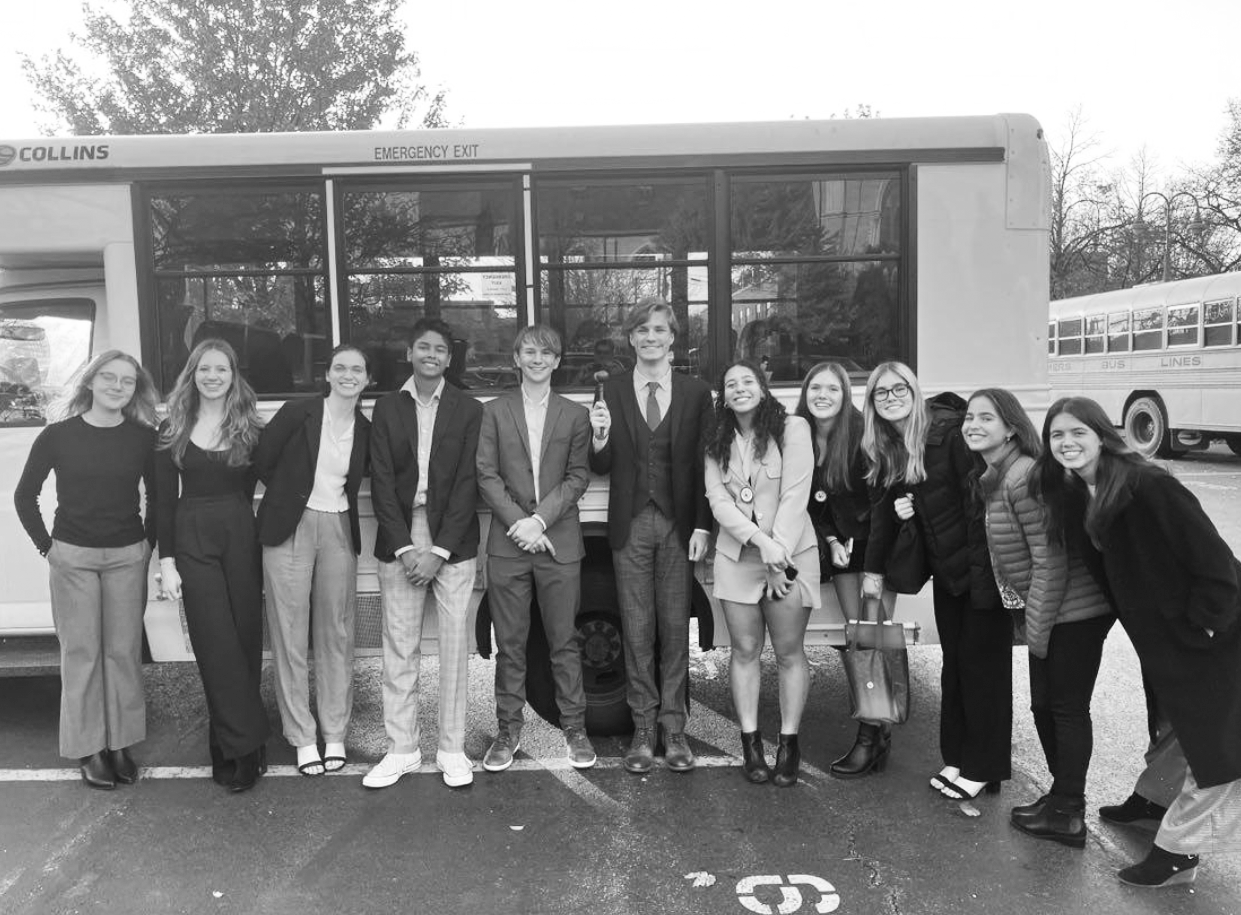 "Conference was a lot of fun," said Lynn, who is also a Trapeze staffer.  "I felt like I got to improve my resolution writing and how I work with others.'' 
Model UN simulates the UN General Assembly by staging debates between student ambassadors on a wide range of topics, from climate change to geopolitics. The Huskies' stellar performance could not have been possible without the hard work and preparation that goes on prior to the conference. The team prepares for conferences by reading the background guide, a packet that provides context on the topic of the room you are placed in, as well as doing outside research to better understand their topics. 
When asked how she prepares for conferences, Fisher said, "I usually do a little bit of Googling to solidify my information and then finish with a position paper to fully prepare." 
Fisher's dedication to the team is shown through her rigorous preparation.Conferences aren't the only thing that comes from model UN. Model UN is a before school club run by retired history teacher Richard Mertz along with student leaders Lynn, Carr, Fitzgerald and Sassone. Model UN meets on Monday morning at 7:20 in the third floor fishbowl. 
A typical Monday with a model consists of simple things to better prepare them for conferences. This includes mini moderated caucuses where the team argues points. Alongside that the team dives deeper into procedures and goes over tips and advice to better their success at conferences and activities. 
Lynn described a typical meeting as "a fun opportunity to meet new people and practice public speaking." Lynn goes on to stress that there is no need to be an expert on the topics to join the judgment-free club.