The Oak Park and River Forest High School football team went 1-8 this season. After this string of tough losses, The Trapeze interviewed the head coach, John Hoerster, about the positives on and off the field and where the program is headed–especially after a strong performance from the freshman team.
 This interview has been condensed and edited for clarity.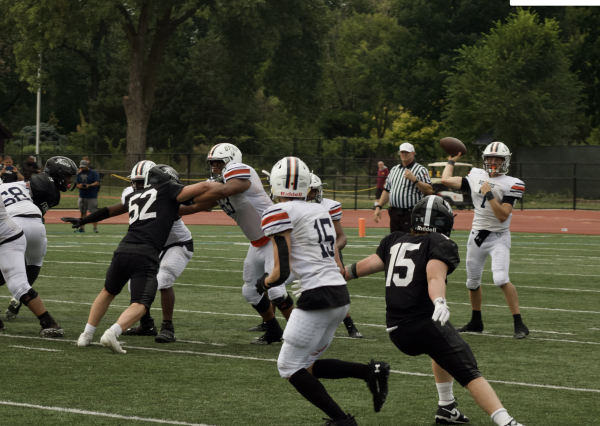 Duke Walsh: What do you see in starting quarterback Johnny Nelson that can get better for his junior and senior year? 
John Hoerster: Johnny just has natural gifts: things that you can't really coach. You can't coach signs, speed, height or arm strength. He also just really wants to compete. The thing that can be worked on is the fact that he's only played football for two years, right? His first time ever playing was as a freshman. And his second season was as the starting quarterback on the varsity football team as a sophomore. We put a lot on his plate, and I think he handled it really well. But I think when he gets another off-season, and he gets another summer in, and he starts feeling more comfortable, the thought process will be faster, and the decision-making process will be faster. I really think the sky's the limit for him as a quarterback. 
Another thing that slowed him down this year is the fact that he got hurt early on. He just didn't get those reps in practice. I'm really excited to continue working with him. I think he's a great kid, and I think he's going to be really really good football player,
DW: Our freshman team did pretty well for their season. They went 6-3. I heard they have players on that team that would really be good in filling some of the senior spots that are leaving for varsity next year. What is the plan for next year in filling those critical senior spots for all around on both sides of the ball?
JH: First of all, you're right about the freshman group. They beat Glenbard West and they beat Hinsdale Central. They had a really, really strong year. I think that in looking at the talent on the freshman team, I can already think off the top of my head, at least a half dozen of those kids will be brought up to play with the varsity to help fill in some of the spots of the seniors as you mentioned. 
What's also exciting is our eighth-grade class. I know it seems crazy to some people, but these are things that we pay attention to. Then there's a handful of sophomores too. We brought up five sophomores. So we really kind of pillaged the sophomore program during the season. But I still think that there are a handful of kids that we didn't bring up that next year will be kids that'll be able to jump into some of those spots too, as well as some of the juniors who are kind of backups. So I think we have, you know, a lot of fun things to look at on the horizon. 
DW: What about the fans, students, parents that come down every week, how did they contribute to the atmosphere when they were cheering and waiting for a big win?
JH: I mean, it's a testament to this community, just the excitement of the Friday Night Lights, where you have a team who is struggling with wins and losses playing against some really good teams in the hardest conference in that state. The students were there week in week out. We could hear them. We could feel them. 
When you go to an awesome public school like this, where people grow up together and people know each other, it's not just a bunch of strangers who come around and root for that person playing football. A huge shout out and thank you to the Oak Park community but specifically the students: the heart and soul of this community. And, I promise that we're going to keep working to keep improving and give them some fun to come and watch on Friday nights.