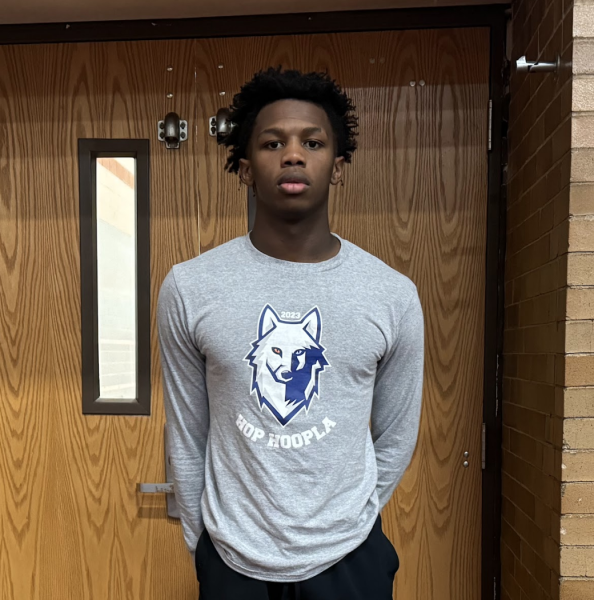 From just one of senior Max Johnson's first varsity games in his sophomore year, Oak Park and River Forest Head Basketball Coach Phil Gary knew he was talented. Johnson had excelled in his game against York High School. "His defense was so phenomenal, I couldn't take him out of the game," said Gary.
Performances such as these have him ranked among the top 40 players in the state. Johnson has been on OPRF's varsity boy's basketball team since his sophomore year, with steady improvements since. 
His stellar progression earned him three Division 1 offers, from Marist College, Portland State University and Bryant University in just his sophomore year. Johnson said one of his goals this season is "to have a winning record and go down state this season, and really just change the culture for everybody after me."
The season begins tonight, Nov. 20, at 6 p.m. with a Thanksgiving Tournament game against Lake Park High School at Wheaton Academy.
Despite being sidelined by injury with a torn meniscus last year, Johnson is determined to work harder and achieve more this upcoming season. Gary said, "He's grown immensely mentally, physically and emotionally, so now we expect him to be our senior leader this year." 
Being a senior leader means taking on a lot of responsibility, and the coaches and team agree that Johnson is ready for it.  "It's something that the coaches put upon me 'cause they knew I could handle it, and I feel like I'm doing well being that it's my first time," Johnson said. 
Gary holds Johnson to a high standard because he saw Johnson's hunger for the game and was glad to be part of the journey to help shape him into the best version of himself at OPRF. "Once COVID-19 hit, he was my first recruit," said Gary, "so he holds a special place in my heart…being my first point guard that I was ever able to get under my leadership." 
Johnson has played basketball almost his entire life, alongside his family, who share the same passion for the sport. It's no surprise that he considers basketball a lifestyle.  "It's kinda mandatory," he said. "My whole family plays basketball, so I grew up on that."
His dedication and commitment to the game have shaped his identity. Johnson attributes his love of the game to "my dad, my uncle, my older cousin, mom and my coach," he said. He values their constructive feedback, especially his mom because he sees it as an opportunity for self-reflection and growth. 
His mom "always tells me what I'm doing wrong and what I could be doing instead of telling me I'm always right. It helps me get better vocally and not just physically on and off the court," he said.
Johnson's passion for basketball has also taught him valuable life lessons such as teamwork, perseverance and resilience. He believes that these qualities are not just important in sports but also in everyday life. 
Gary agreed and said, "Sophomore year he was goofing around a lot, but since then he's gotten really mature and definitely taken it more seriously, and that helps the camaraderie of the team. Everybody falls in line."
Johnson agreed saying, "I feel like with the way this program is set up, the bond between the team and I just gets closer and closer."
Justin Bowen, a junior on the team, has been playing basketball with Johnson since they were 12 years old. Bowen said he has noticed how much Johnson has improved since then. "It's fun [playing with Johnson]," Bowen said. "He gets off by himself, or he'll pass the ball and get help. It's a win-win situation…He's a good guy, a great player to look up to." 
This year's team is close and their bond only makes them stronger. With Johnson leading this year, he hopes to continue to bring the team together and bring as many wins as they can before the end of his last high school season.
Johnson's goal is to "make my teammates around me better, whether that's telling them what they're doing right or wrong, I just want to know that everyone on my team improves every day."
In the future, Johnson hopes to pursue a career in basketball whether that may require him on or off the court. "I hope to play basketball for as long as I can, and after that still be around the game, whether managing or coaching," he said.