Oak Park and River Forest High School's beloved Scyla Murray Baielli, an English teacher and world-class athlete, was among the winners of the Tradition of Excellence Award honored in a ceremony on Nov. 10.
The award goes to alumni who have made outstanding contributions to society in their career fields. Baielli is a rare recipient who is both an alum and a current employee.Baielli has taught at OPRF since 1997, more than 26 years. "I wanted to come back here…because there are just so many opportunities in Oak Park, especially for black teachers," she said.She attributes her desire to work in education to her admiration of the teachers and professors that she encountered.
"[OPRF] taught me to reach a little bit further and be proud of who I am," she told her Student Council interviewers at the Tradition of Excellence ceremony. Baielli was honored alongside Sam Hunt, class of 2005, an actor, and Kamillah Forbes, class of 1994, the executive producer of the Apollo Theater in Harlem, New York.
Baielli graduated in 1986 at the age of 16 to pursue a bachelor's of language arts and education at Hampton University. She also continued her remarkable track and field career, after placing third at nationals in high school.
Baielli transferred to Western Illinois University during her sophomore year of university for a more rigorous and "hurdle-friendly" track program. "It was also a teacher's college," she said, "It was the perfect fit for me."
During her time at WIU, she became a Hall of Fame athlete, winning the Athlete of the Decade Award. She then obtained her master's degree at the University of South Alabama.
She began her teaching career at Proviso Township High School for just a semester before she applied for a position at OPRF due to the extreme differences she noted in the school's curriculum and punishment methods in comparison to
OPRF's, she said.
Baielli said that this shift allowed her to "revisit all that (she) had loved at OPRF." Baielli's return to her alma mater also allowed her to connect with students in a unique way as she knows the culture at OPRF from first-hand experience.
"Kids universally love her because they feel respected and understood in her space," said Erika Eckart, the English division head. "She knows kids and appreciates their intelligence."
Outside of the classroom, Baielli engages in various community groups such as The Girl Friends, Inc., one of the oldest and most highly respected groups for African-American women in the United States. She is the Vice President of the OPRF Alumni Committee, and she performs stand-up comedy at Second City as well as various other venues in the Chicagoland area.
"I learned these things one by one because she never brags about herself," said Eckart. "She's very humble and matter-of-fact."
James Sieck, a colleague of Baielli, believes that her stand-up perfectly encapsulates who she is. "It's a really great example of her character. She's really funny, really creative and extremely intelligent," he said.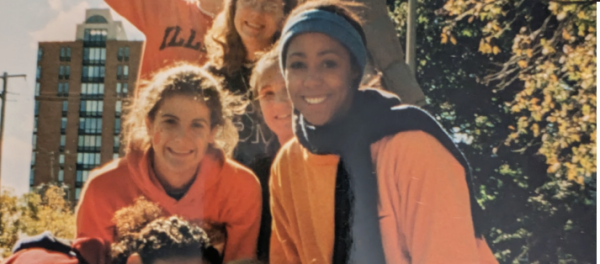 "I like doing stand-up. It's really hard," said Baielli. "It gives me more empathy for my students when they have to write an essay or do something and present it and they worry because they think it has to be perfect."
Baielli stands out as a teacher by creating a classroom environment where her students feel supported and comfortable to try new things, according to Eckart. "She puts students' social-emotional needs at the forefront," she said.
"She is really fair with her students, she knows what will be impactful, engaging and meaningful," said Sieck.
Allison Myers, another colleague and longtime friend of Baielli, said she is inspired by Baielli's "willingness to be open with her students" while still keeping "high expectations for them."
In addition, Baielli includes "social commentary," through her comedy, which "enables teachers in the department to think more deeply about issues without losing our sense of humor," said Myers.
While introducing the assembly, Angela Hawkins, the Student Activities Director at OPRF, described the Tradition of Excellence winners as "significant role models for OPRF. They remind us that OPRF is a community, and this com-
munity is here to provide support."
This perfectly sums up Baielli's impact on the job she loves. "I laugh every day, and it's a challenge," she said. "Not one day is the same, and people just do amazing things."