French students experience America in Oak Park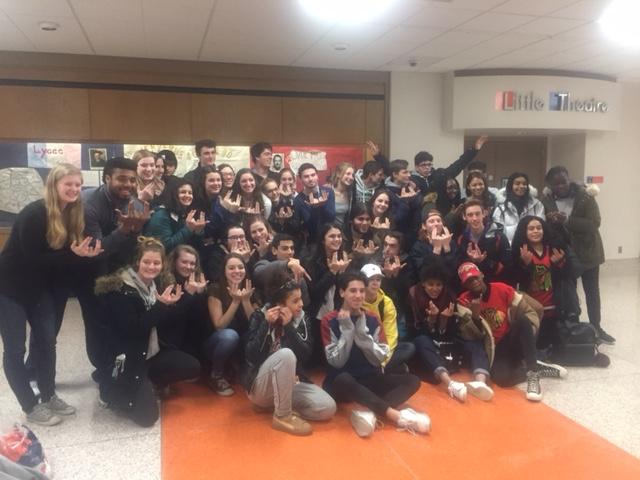 Addison Dick, Contributor
March 24, 2017
From going to a Bulls game to eating at Oak Park restaurants and shopping in downtown Chicago, the 20 French exchange students who were hosted by OPRF students this month were always active.
French teacher Rena Mazumdar said, "we saw such wonderful camaraderie between the two groups. I know my students will be encouraged even more to continue with their French studies and keep in touch with their new friends from Paris. This is a culturally enriching program that takes learning a language beyond the classroom."
Mazumdar noted the experience students had at a local restaurant.  "The food was a shock! We took them to a Mexican taqueria and that was their first ever taste of Mexican food."
Parisian student Tom Carrigan, who was hosted by senior Augie Johnson, has found OPRF to be very different than his school in France. Johnson said, "everything in Oak Park and Chicago is much bigger and there are more opportunities at our school both in classes and extracurriculars," Johnson said.
Mazumdar agreed and said "they were so impressed with all our facilities and programs. Everything is on an enormous scale here compared to Paris."
Johnson also noted the difference in life at home in Oak Park compared to Paris.  "All of families in Oak Park have one or more cars and they at most only have one car in France.  They learned the difference between how the normal American day and activities differs from the stereotypical ones," he said.
Carrigan has enjoyed his time in Oak Park because he feels connected to the Oak Park community.  Johnson said, "he has had a real experience of Oak Park and Chicago, rather than just the touristy experience.  He has also improved his English.  He finds the Oak Park kids to be more open, outgoing, and responsible."
Mazumdar agreed, saying "their language skills improved as they were speaking French with non-French speakers."
Johnson said, "by the end of the trip, they were more willing to try new things that they were hesitant about when they first arrived.  They were used to the big differences between American life and French life."
Both the exchange students and the OPRF students were somber when the French students went home.  "Seeing them leave was sad and pretty emotional," Johnson said, "especially for those who are not going to France over spring break and won't see the students again."
Mazumdar hopes the OPRF students will stay in touch with their exchange students.  The students who are traveling to France during spring break, Mazumdar said, "are very excited to see their new friends soon and from my past experiences, there are always a handful of students from every group who continue their studies in France."