Girls swim splashes on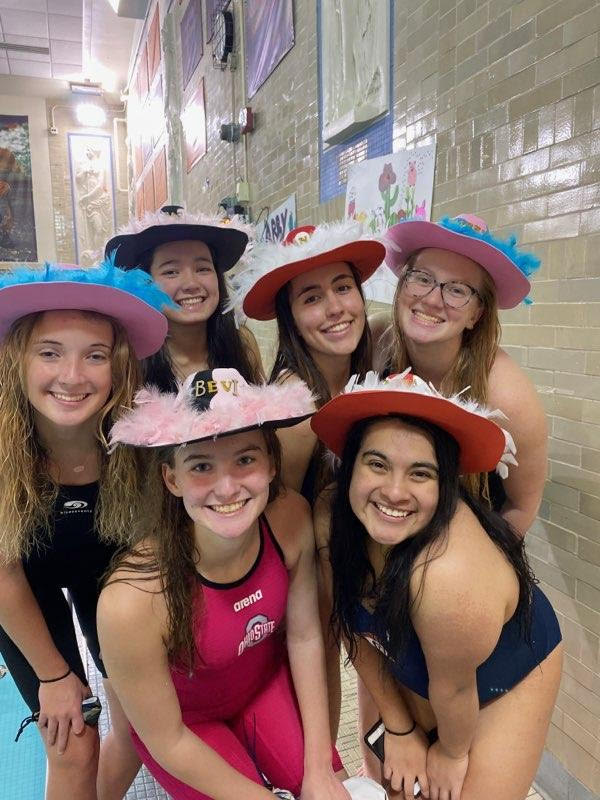 The Girls Swim Team, one of six fall sports played this fall, recently wrapped up their season.
However, due to the pandemic, this season looked different than usual. Senior captain Jasmine Wood said when swimmers show up at their specific check in time, they must get their temperature checked and confirm they do not have any symptoms. Swimmers are required to wear masks and keep their distance while out of the water.
Despite the difficulties the team faced this year, Wood says she is proud of the commitment and work ethic of the team. "Our swimmers are super-super committed and hard workers… just because balancing any sport, but especially swim is a challenge because normally we'd be getting up at 5 and not getting home until 10, and still having to do homework and eat dinner… It is a really, really, hard sport."
For Junior Varsity (JV), restrictions went further: the number of swimmers on the team was decreased.
"[We've] been doing two JV teams to separate people this season," said Annabelle Richt, a senior on the JV team. "[We] switch off on which team [attends] the meet because we want to limit interaction with other schools," Richt said, about why the team split in two.
On top of the already extraneous circumstances, the team faced adversity when one swimmer on the JV team contracted COVID-19, forcing the group to self-quarantine.
"My group had to quarantine for two weeks in the middle of the season," said Richt. … The situation was very frustrating especially as a senior. Our season was already shortened to ten weeks. Then after the quarantine ours got shortened to eight weeks. It was right in the middle of our training so it was really annoying to have to come back from that [setback] because we weren't allowed to have any activities with the school for two weeks."
The team did find a way to meet during their quarantine, but according to Richt, it wasn't the same. "We figured out a way to do Zoom practices but… if you aren't in the water for a long period of time you sort of get out of shape." Still, "it definitely was a set-back" Richt said.
"The season did go really well, obviously we weren't able to have some of our larger championship meets with everything going on, but to us, success this year meant everyone was staying healthy," Richt said. "I think we all did the best that we could and this season especially, we all got a lot closer with everything that we were going through together."
The swim team placed 4th overall at their conference this year, behind Hinsdale Central, Lane Tech, and Downers Grove North.