OPRF student and activist attends United Nations conference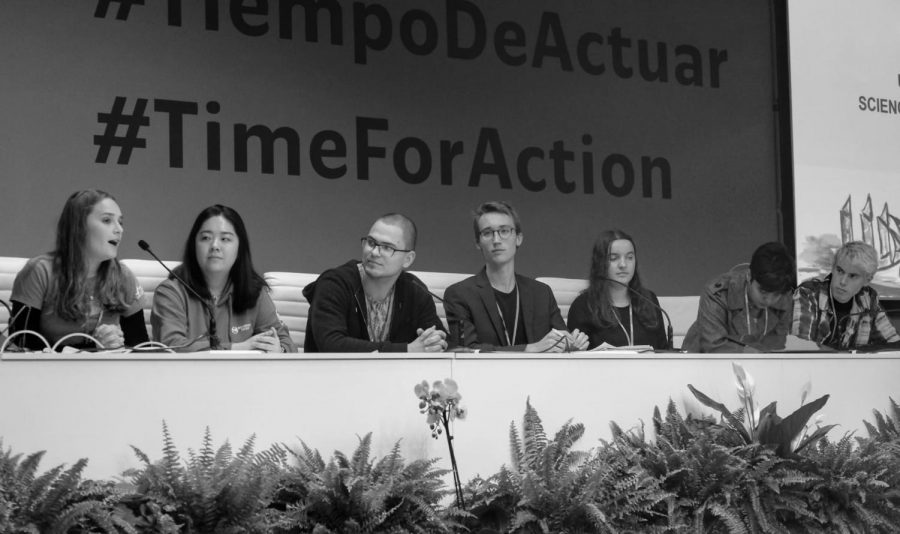 Roz Beile is fighting the climate crisis. Representing local youth advocacy group It's Our Future, Beile attended the 2019 United Nations Conference in Madrid, Spain. Beile left, inspired by the "utter fierceness" of international youth activists, ready to impart these lessons on OPRF students.  
"What fuels my fight is seeing the effects of climate change," said Beile. Since she was five, she's visited Maine during her summers. The Gulf of Maine is one of the fastest-warming places in the world. Beile has seen an invasion of jellyfish precipitated by disruptions in the ocean.  
Much of Beile's fight is inspired by her mother, Laura Stamp, a teacher at Brooks Middle School. 
"She likes to connect people with nature," said Beile, describing her mother. Stamp leads an environmental club at the school where she teaches. When Stamp suggested she join It's Our Future, she obliged.
This year, It's Our Future won the Big Idea grant from the Oak Park-River Forest Community Foundation. The philanthropic foundation rewards local change-making organizations. The grant money was $50,000, which helped fund the trip.
For the first days at the conference, Beile stood outside, interviewing attendees for her documentary about the conference, "Youth Unstoppable." "Youth Unstoppable" is her first film. It's now completed and submitted to the One Earth Film Festival. 
At first, Beile recalls being nervous. By the end of her time there, Beile was interviewing nearly 20 people a day. Among her notable interviewees were people native to Easter Island. "One of their core values is nature," said Beile, and their passion for it was inspiring.
At the conference, Beile was invited to speak on a panel discussing intergenerational activism against climate change. Beile was the only American on the panel. She shared the stage with fascinating environmental advocates: Louisa Neubauer, a German teenage climate activist notable for inspiring climate strikes in her native Germany; Elijah, a climate strike participant from the U.K.; a representative for Sail to the COP, a group of 40 teenagers who'd sailed to the climate conference; and lastly, a man who'd created a nonprofit think tank encouraging dialogue between economists and scientists. 
Here at OPRF, Beile dreams of a grassroots youth climate movement. That way, youth will appeal to policymakers, businesspeople, and changemakers to create top-down change. 
For Beile, advocacy for a carbon tax takes priority. She places the burden of limiting carbon emissions firmly on corporations. She believes taxation is the only viable way to incentivize corporations to limit carbon emissions. 
"I'm not a one-issue voter," Beile said, but looking ahead, there are changes she would like to see. Beile especially supports the Green New Deal and plastic bag bans like those in Chicago and California. 
Beile has seen political decisions threaten the environment. She goes to camp in New Mexico, where the Trump administration has dismantled the beloved Bear Ears and Grand Staircase-Escalante National Monuments. The dramatic reduction enabled companies to swoop in and mine fossil fuels.
Beile also has made decisions to personally minimize her own climate impact. 
"I felt super guilty flying," she said. When they flew to Madrid, however, they "offset" their carbon emissions. Carbon offsets, donations that reduce carbon emissions, are scaled to the amount of emissions. When driving or flying, OPRF students can do the same.
Beile is a vegetarian. Her love for cheese prevented her from going vegan, she joked. Even though she might not be able to convert her friends, she can still limit their environmental impact: "I have this thing where I don't buy meat for my friends if we're going out." 
At OPRF, Beile wants to eliminate single-use plastics. She believes that dishwashing reusable plates and utensils would greatly reduce waste, energy, and emissions.
The conference lasted 10 days, but Beile and her mother left after six, where they roamed around Madrid for a day. "It feels like Chicago, but a lot chiller," said Beile.