Senior Dhillon honored for bacteria research
Senior Nadya Dhillon has been named a Regeneron Science Talent Search Scholar for her research into how to fight antibiotic-resistant bacteria that tend to form on surgical devices.
This is the first year that a student from Oak Park and River Forest High School has received this award in the competition's more than 80-year history.
The Regeneron Science Talent Search is the oldest and most prestigious STEM competition in the nation. It is sponsored by Society for Science, a non-profit organization that focuses on STEM research and education.
Dhillon's project, "The Effect of a Novel Biomedical Technique on Reprocessing of Duodenoscopes Using Silver Nitrate and Methylene Blue Irradiated With Red Light," explores the use of two chemicals, silver nitrate and methylene blue, split up into different concentrations to test and see if they can kill multidrug-resistant bacteria.
This year nearly 2,000 students from more than 600 schools submitted their research to the competition. Only 300, including Dhillon, were selected as semifinalists. Each winner received $2,000, and so did their schools.
Forty finalists went on to a competition in Washington, D.C. to compete for the top prize.
After joining the Investigative Research Design and Innovation (IRDI) course at Oak Park and River Forest High School her junior year, Dhillon started her research based on her interest in antibiotic resistance.
"I took the entire first semester to do the actual review of published literature, set up my experimental design and collect all of my data." Dhillon said.
She has continued developing her research this year and progressing in her research and findings.
On Jan. 10, when Dhillon found out she was a semifinalist for the Regeneron Science Talent Search Scholar, "I was incredibly excited and immediately texted my parents. I was so excited to tell Mrs. Hennings. She is the sole reason I was able to do any of this!" Allison Hennings teaches the Investigative Research Design and innovation course (see story, page 1).
Dhillon's interest in science stemmed from her dad. "He has always tried to engage us in science and learning in general. When we were with him on weekends, we would always be learning something by doing an activity or watching something interesting," she said Dhillon also thanked her mom, who "is always so supportive and would do anything to make sure we were always learning and having fun with it."
In a press release from the school, Hennings and Superintendent Greg Johnson congratulated Dhillon on her success.
Hennings said "Becoming a semi-finalist in the Regeneron Science Talent Search is just the start of the impact she will undoubtedly have on our world."
"I am extremely proud of Nadya's accomplishment," Superintendent Johnson said.
Dhillon said she is "planning on continuing doing research in college, and I'm so excited to see what area or field I will end up doing," she said.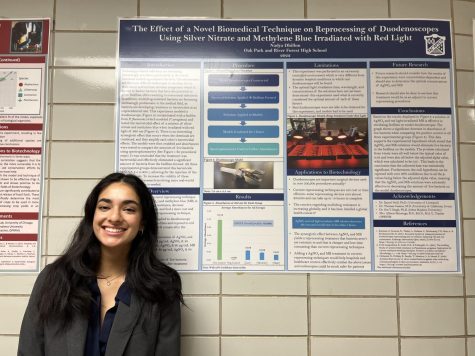 Leave a Comment