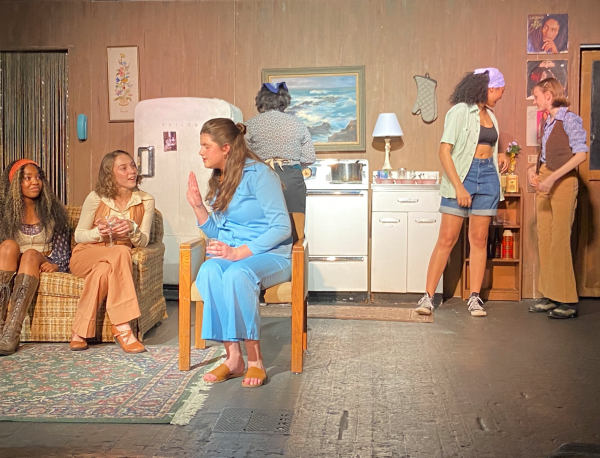 A classic of LGBTQ+ theater was presented as the second Studio 200 show of the year at Oak Park and River Forest High School. "Last Summer at Bluefish Cove" was directed by senior Mia Wetzler and ran from Nov. 1 to Nov. 3.
"I really wanted to do a show with a focus on queer women because it's a subject that is very close to home, and I felt like it was very relevant in the OPRF theatre department," said Wetzler.
"Last Summer at Bluefish Cove," by Jane Chambers, tells the story of Lil, Eva, Kitty, Annie, Rae, Rita, Sue and Donna, eight lesbians who spend their summers together at Bluefish Cove.
The show was written in 1980 for the first Gay American Arts Festival in New York City. Widely considered the first mainstream play to portray lesbians as well-rounded characters, its story centers around Lil and newcomer Eva's beginning romance.
The depth given to the relationships by the script was something that appealed to everyone involved. "I was really excited to do a show that was about queer people," said senior Mia Kamenski, who played the lead Lil. "Queer women in particular, (this) is a more accurate portrayal that really paints us in a complex light."
Studio 200 shows have a maximum of eight people allowed in the production. These smaller shows allow for the cast to develop a tight bond. "It was so much more close knit than other shows I've done," said sophomore Rainey Kearney, who played Donna. "It was such a great
way to meet other people like me that have a passion for theater."
This close-knit feeling was explored in the unique seating arrangements for the show. The front row seats were blankets and pillows on the floor. Fairy lights hung from the ceiling overhead.
"The fairy lights were an idea from my theater tech and design class," said Wetzler. "But for the blankets and pillows I wanted there to be a sense of intimacy between the audience and the actors. I wanted the audience to feel like they were also on the beach watching everything happening on stage. I thought that would help people connect to the show."
This is the same reason Wetzler chose to have thrust seating. Thrust seating is where the audience is on three sides of the stage, allowing closer proximity between actors and audience.
With each of the characters being in a relationship at one point during the play, the actors focused on the connections be-
tween the characters.
"I really focused on our relationships with other people, with other characters," said junior Lucy Siegel, who played Kitty. "I feel like that's a really important part of my character. And honestly, just any character in the show, it's so relationship based."
The close relationships between characters and actors appeared to resonate with OPRF audiences. "Last Summer at Bluefish Cove" was well attended, selling out its final performance.