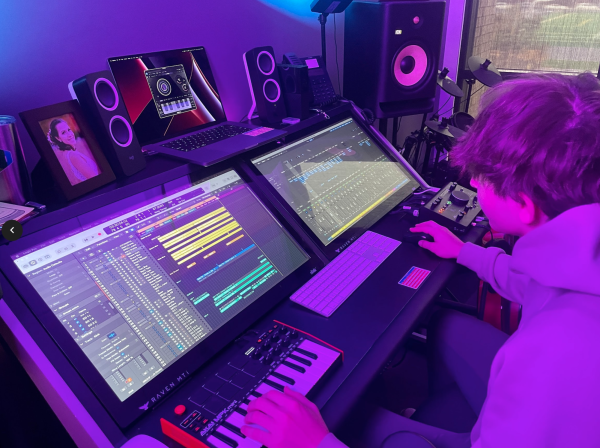 Quin Brigham and Charlie Stow have a vision. The Oak Park and River Forest High School seniors hope to use music to bring people together. To make their vision a reality, they are producing original electronic music in the campus recording studio–a facility open to all students with musical ambitions.
The recording studio they use is located on the second floor, adjacent to the Makerspace in the Student Resource Center, or SRC. The space has many high-quality speakers, microphones for podcasts, a multi-touch production console, a recording room, many instruments and various other audio/music equipment. Students use it to record lyrics, podcasts, produce music and many other forms of art and entertainment.
"OPRF has always had a thriving music program, and I've been recording
students since I arrived here in 2014," said Drew Fredrickson, the instructional technology teacher leader at OPRF.
Fredrickson runs the recording studio and works with those who sign up for time in the space. Fredrickson taught himself how to play the trombone and tuba in middle school and was a professional musician by the time he was in 6th grade. He went on to get his master's degree in music performance from Indiana University along with his master's degree in music education from the University of Illinois at Urbana-Champaign.
Brigham and Stow have been working on their songs for many weeks, using their free time during study hall to produce and fine-tune their songs with the help of Fredrickson. They took inspiration from artists such as Steve Aoki, David Guetta and Alan Walker, aiming to create connections through their music. "I understand music's ability to bring people together, and I want to show that to the world," said Brigham.
Brigham and Stow have been producing songs for the majority of first semester and offered their perspective of the music production process.
"The first and most important step in producing a song is determining what you want to create. Having a vision for your song will allow you to experiment with different sounds and effects and end up with a beat that fits your style," said Stow.
The next step is to edit the sound to the desired tone and pitch, perfecting the instrumental sounds in the track. Once this is complete, adding lyrics will finalize the song and some final touch-ups will polish the song before it is released.
As for Brigham and Stow's song, they are adding minimal lyrics due to the genre of the song, which typically doesn't have lyrics at all.
Music has no limits, allows creativity to flourish, and permits full expression of feeling through sound. Students can sign up for studio time during lunch periods or study hall with a QR code posted on the wall of the studio room in the SRC.